Neem oil is one of nature's often overlooked natural remedies, and it's packed with natural remedy uses — and it will help keep the pests away! Neem oil is an extract from the fruit and...
Research shows that vegetarian and vegan diets are smart choices for health-conscious humans. They also minimize harm done to animals raised as fodder for supermarkets. But can a diet that is healthy and good...
There's no better way to beat the cold than to curl up with a warm-blooded pet, and if you've been hoping to open your home to a new furry friend, there's no better time...
How lucky I am to have something that makes saying goodbye so hard. ~ Winnie the Pooh The knowing started about a week before my kitty died. The knowing comes after that disbelief stage they...
November is "Adopt a Senior Pet" Month, and as anyone who has adopted an older animal can tell you, age is just a number. Furry seniors still have a lot of life—and love—left. Just...
It's frustrating to walk down the street and see plastic bags filled with dog poo and left on the grass. People who pick up after their dog, but fail to dispose of their poop...
As humans retreat to our air-conditioned malls, movie theaters and homes, many pets and wildlife are stuck outside dealing with the most intense heat wave in the country since the 1930s Dust Bowl era...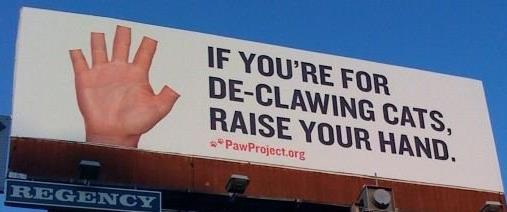 The dog and cat anti-mutilation bill is back, despite already being terminated once before by the Governator in 2010. California SB 1229 would prohibit landlords from requiring a tenant or a potential tenant to...
Although Cpl. Dustin Lee died from his injuries in Iraq, while he lie wounded in the dust after the insurgent rocket attack that later took his life, his shrapnel-filled equipment managed to drag itself...
Humanity has been trading animals for thousands of years. Emperors and kings demanded bizarre animals from the four corners of the globe, which started a trend that still exists today. The trade in endangered animals...