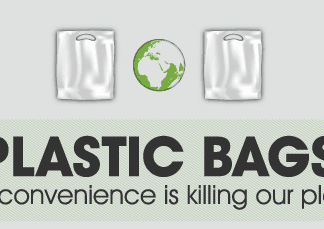 Plastic bags continue to pose a major risk to the planet's environmental health. For instance, did you know that there are 46,000 pieces of plastic found in every square mile of ocean? And more than...
Plastic pollution poses one of the biggest known threats to the ocean, influencing all ecosystems from beautiful coral reefs to abyssal trenches, eventually accumulating in our own food. This video from National Geographic explores...
Up to 236,000 tonnes of microplastics – tiny pieces of broken-down plastic smaller than your little fingernail – enter our oceans each year. This has researchers around the world worried, as wildlife can be...
There is currently an estimated 3.5 million tons of trash floating around the Pacific Ocean, in what's called the Great Pacific Garbage Patch. It's believed the patch spans roughly twice the size of the continental...
In recent decades, a quarter of the earth's corals have disappeared, alarming scientists (and, you know, humans) all around the world. And as oceans continue to warm, pollution and ocean acidification continues to increase,...
Pacific Remote Islands Marine National Monument, which bans commercial fishing, to be expanded to six times its current size
If you haven't heard of Dr. Sylvia Earle's Mission Blue campaign already, then you're about to hear a lot about it over the next few days. Starting on the 15th of August, the new Netflix...
While most of the globe is caught up watching the World Cup, artist Mandy Barker is showing off an exhibit inspired by soccer (or football, depending on where you're reading this) and ocean pollution. The collection,...
Over the past few years, the world has been awakened to the fact that there are gigantic swirling masses of trash floating in our oceans, 90 percent of which is plastic (source). Environmental proponents,...
It has been known for some time that local bodies of water play a crucial role in moderating a region's climate. The water is able to absorb heat during the warmer months and give...