Cookbook author Lisa Howard is a popular culinary speaker who helps people understand and evaluate health aspects of their food intake. She is creative and fun as a cooking instructor and during her classes...
One of the traditional means of serving quiche has been in a pastry crust. This encompassing flour-based edible dish, and flour often added to the egg mixture as a stabilizer, makes quiche inedible for...
Zucchini becomes the platform for fresh bruschetta mixture, a healthy and flavorful alternative to the standard white bread used when making this classic dish. To make this dish vegan and lactose-free, use a vegan parmesan...
Cauliflower has begun pervading a variety of dishes, becoming a low-calorie and gluten free means of bulking up a meal or replacing breads and rice. With little flavor and a delightfully hearty texture, as well...
The overabundance of blackberries throughout British Columbia in the summer season results in never ending recipe variations using the sweet, rich berries. From blackberry pastries to blackberry coulis to blackberry chutney, a cook can...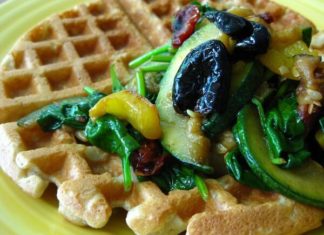 Waffles are always sweet. But, they don't have to be. And, they don't have to contain gluten either. These waffles are easy to make and are just as fluffy and light as normal waffles. If...