Get ready to get your hands dirty with these tips on maintaining a natural, eco-friendly garden.
Are you ready to unleash your creativity and transform your outdoor space? Dive into our collection of 7 imaginative flower garden ideas that will ignite your imagination and bring joy to your surroundings. Get ready to explore unique designs, vibrant color palettes, and whimsical touches that will make your garden a true masterpiece.
Anyone who owns a garden knows how pesky weeds can be. Here are 10 safe homemade weed killers to use in your garden and around your home.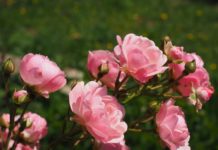 Get your garden in full swing this May with these essential gardening tasks. From planting vibrant blooms to nurturing seedlings, discover the top 10 things every gardener should do to ensure a bountiful and beautiful spring. Don't miss out on maximizing your garden's potential this month!
Back to Eden Gardening is a sustainable and natural gardening method that has recently gained popularity. It involves mimicking the natural ecosystems of the forest to create a healthier and more productive garden. Read on to learn more about this method and how it can bring you closer to nature.
Looking for free greenhouse plans and designs? Check out our top 10 picks for the best resources to find them, including Instructables, The Spruce, and more. Start building your dream greenhouse today!
If you're looking for the perfect plant to fill those shady spots in your garden (or kitchen), consider this selection of vegetables and herbs that thrive in the shade.
Gardening isn't just a hobby; it's also a powerful tool for improving mental health. Discover the benefits of garden therapy, including how it can help with depression, anxiety, and stress. Learn how to get started with your own garden and the science behind how gardening therapy works.
Oganic fertilizers can provide many benefits to your garden, but they also have their downsides. Read on to discover the pros and cons of using organic fertilizers for your plants.
Spring is the perfect time to give your garden the care it needs after the winter months. From pruning to fertilizing, there are several things you can do to prepare your garden for a vibrant, growing season. In this blog, we'll share five essential tasks to get your garden ready for spring.
Elevate your outdoor space with these 7 creative patio gardening ideas. From vertical gardens to herb gardens, transform your patio into a lush oasis.
Discover the surprising ways you might unknowingly harm your beloved dog. Learn how to avoid common pitfalls and ensure the well-being of your furry friend.
Discover the power of going digital with our comprehensive guide to green invoicing. Say goodbye to paper clutter and embrace the eco-friendly solution that streamlines your business operations and saves the environment, one invoice at a time.
Making the switch to solar power is exciting, but you'll have to do some research first. There are different variations of solar panels that offer various pros and cons. Check out this guide to understanding the different types of solar panels to make the best decision for your home or business.
The solar industry has come a long way in just the last few years. The latest developments and breakthroughs in solar technology include longer-lasting solar cells, solar cells that you can print onto flexible surfaces, solar panels that track the sun from east to west throughout the day, and solar power plants that work at night. Here's a breakdown of the breakthroughs we're most excited about.
Are you considering installing solar panels on your home? Here's everything you need to know about solar installation for homeowners.
Neem oil pesticide is 100% natural and non-toxic to humans and pets, is inexpensive, and offers a long-term solution to pest problems.