If you're like most people, the weekdays are a mad dash to get out the door on time. You're juggling work, errands, and maybe even kids. The last thing you want to think about is what you're going to eat. That's where meal prepping comes in. Here are some healthy meal prep ideas to get you started.
It's no secret that the world has a food waste problem. Every year, billions of pounds of perfectly good food end up in landfills, where it decomposes and emits methane, a powerful greenhouse gas. Not only does this have a major impact on the environment, but it also means that people are going hungry while food is being wasted. This is a critical issue that needs to be addressed. The solutions start right in your kitchen.
Besides brushing up mothballs and sweeping away spiderwebs, we can also look at the other ways we pollute the Earth, and choose to "clean up" our actions by adopting habits that have a lower impact on the environment. Here are a few simple changes you can make today.
Most people focus their sustainability efforts at home as this is where they spend most of their time and have the most control. But what about time spent in the office? It is important to extend our Eco-friendly habits to the workplace as well.
Three billion people globally can't afford to eat a healthy diet. Of these people, 690 million are hungry on a day-to-day basis. Food security is a growing issue, even in first-world nations. In countries like Canada, fast food is cheaper than fresh, healthy produce. So, how big of an issue is it? This Infographic breaks down the numbers.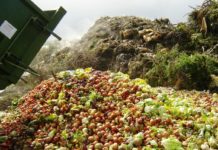 Food waste accounts for up to 29% of the amount of trash each year in the US. Here are 9 effective ways to reduce your food waste at home.
Almost one-third of all food produced in the U.S. In 2017 alone, for example, 103 million tons of food was ultimately thrown out. That kind of waste represents a serious problem for both the environment and your family's pocketbooks. Here's how you can minimize food wastage.
As the world grapples with depleting resources, food-supply chain problems and health issues, packing your kitchen with Eco-friendly food means all the difference. Here are a few ideas to get you started.
When you throw your leftovers or spoiled food in the trash, you probably think to yourself that you could have saved some money if you hadn't bought that extra...
Walmart Canada has announced a commitment to achieve zero food waste by 2025, while Walmart Foundation is providing $15m in grants to support Canadian initiatives and research to reduce food waste along the food chain from farm to fork.
However you choose to while away the colder winter months, careful consideration of what to burn in the fireplace is one way to make greener choices.
If you're considering growing plants inside a greenhouse, here are 13 obdurate advantages you'll definitely like to know and utilize as well.
There are several inexpensive and non-toxic methods you can use to unclog drains in your home with ingredients you probably already have in your cabinets.