Seven species of vulnerable sharks and manta rays may get the chance for some much-needed protecton. These species have now been submitted by 35 countries for consideration for protection next year. The initiative falls...
In another stunning example of consumer power, the world's top two largest cargo airlines, Fed Ex and DHL, join UPS in initiating a ban on shipments of live animals to laboratories. After growing pressure from...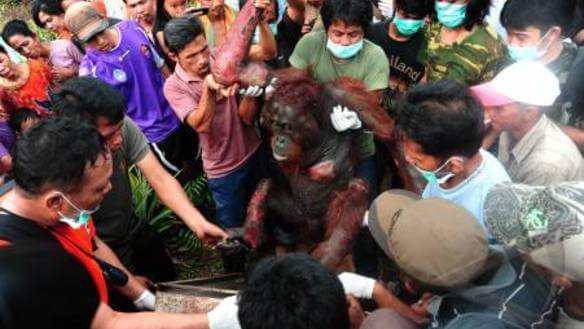 After his forest home was destroyed to make room for palm fruit oil plantations in West Borneo, the charred primate pictured above dared to abate his starvation by feeding on the fruit of the...
The annual dolphin hunt provides big business along Japan's coastal areas. But the hunt has been a contentious issue amongst pro and anti whaling organizations in the country for years. [youtube https://www.youtube.com/watch?v=1LQboIzCV7c?rel=0] Click here to sign...
Remember the bear family in that Goldilocks fairy tale we all loved? We all liked to believe those bears lived the life of regular humans -- eating home-cooked porridge meals, sleeping in regular beds,...
This school year the teachers are in trouble-- and the first bell hasn't even rung! Canadian news is buzzing with warnings that many teachers using live organisms as teaching tools are wrongly disposing of their...
As the fall hunting season approaches, wolves in the lower 48 face an uncertain future. More than 10,200 wolf hunting applications have already been submitted in Wisconsin, where the state will issue by lottery 2,000...
Do you ever find yourself wondering, "What is the oldest living thing?" Is it an animal or plant; creature of the land or beast of the sea? Well read this post and you'll wonder no more...
Deer are beautiful and gentle creatures and it can be a delight to see them in the wild. However, if you are trying to grow your own fruit and vegetables in a garden and...
The day Obama was sworn in as president, my neighbor flew his Hummer-sized American flag at half mast. I thought it was pretty funny. At that point I still had a lot of hope...