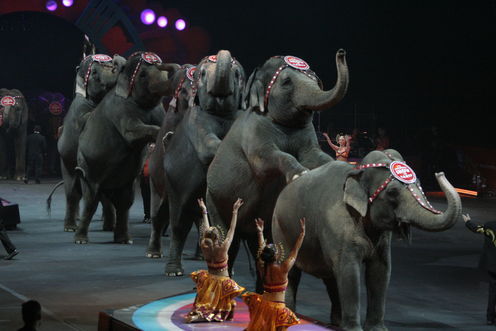 The "Greatest Show On Earth," the 146-year-old Ringling Bros. and Barnum & Bailey Circus, announced in January that it will finally close in May. The circus was simply not sufficiently spectacular to compete with...
Hundreds of native tule elk confined behind fences at the Point Reyes National Seashore near San Francisco have died of thirst since 2012, unable to leave their enclosures to find water after their fresh...
There's something very soothing about ordering the cage-free or organic eggs with your breakfast, or encouraging friends and loved ones to buy them. It's nice to think that the eggs that you're eating come...
In a show of solidarity against the tyranny and inconvenience of compassion and conscience, food worshippers across the state are celebrating one foie gras-loving judge's decision to overturn a California-voter approved ban on the...
For the second time, New Jersey Gov. Chris Christie vetoed a bi-partisan bill supported by 93% of his constituents aimed at freeing pregnant pigs from being forced to spend their lives before slaughter confined...
Despite online petitions and pleas from international celebrities, the ritual killing of 200,000 animals in what is deemed the most massive ceremonial animal slaughter to take place in one location kicked off in Nepal without...
I, like many animal rights advocates, can be a little dismissive when it comes to PETA (People for the Ethical Treatment of Animals). It's not that I don't completely disagree with them, it's just that...
After the tragic death of one of Woodland Park Zoo's three elephants in August, the zoo has announced it will close its elephant exhibit. This comes in the wake of an investigation by the U.S....
It's a well-known "fact" that young people who abuse, torture and kill animals are more prone to violence against people later in life if left unchecked. In fact, animal cruelty is one of the...
Have you ever wondered what it might be like to get eaten by a snake? No? Me neither. However, one man did: Naturalist and filmmaker Paul Rosolie. For a Discovery Channel Special, Rosolie and a Discovery Channel team...