There are some incredible benefits of trees—especially in an urban setting— that you may have never considered. So, how do urban forests benefit our cities? Let us count the ways...
A key part of healthy living is the air you breathe — whether that's indoors or outdoors. While there isn't much you can do about the pollution in your city or neighborhood, you can take control over the air in your own home. This infographic shows the best plant choices to keep in your home for cleaner indoor air.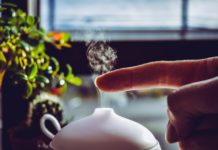 The quality of air you breathe is essential to your health. While you may be aware of outdoor pollutants and chemicals in office buildings, don't forget to check the air quality of your home, too.  Some of the most common toxic chemicals found in indoor air are volatile organic compounds (VOCs). Many common household products can emit VOCs, damaging your air quality and your health.  Here's everything you need to know about how to reduce VOC levels in your home.
Sleep is an essential part of our well-being. The process is vital to both our physical and mental health: studies have shown that people who experience sleep insufficiency are at a greater risk of developing several diseases, including hypertension, diabetes and depression. This infographic outlines the 15 best indoor plants for sleep—like lavender, which lowers the heart rate and relaxes the mind.
As cities continue to sprawl outwards, it's obvious that nature has to make some sacrifices. But what may not be obvious are the effects that urbanization has on those that...
Driverless cars offer many societal and environmental benefits that make a driverless future exciting for environmentalists.
The planet has gone through extreme environmental changes over the years. Some have been extremely detrimental to different species and their natural ecosystems. Here's a look at the top 7 environmental concerns of 2022
Air quality in cities across the world has dramatically improved due to COVID-19 lock-down measures. Why does air quality matter and is this new state sustainable long term?
An updated analysis suggests the cost of extracting a tonne of CO2 from the atmosphere now ranges between US$94 and $232. 2011 analysis put the cost at $600 per tonne.
The research, by Oxford and Bath University, showed that related health costs from car and van emissions are costing about £6 billion a year in damage.
However you choose to while away the colder winter months, careful consideration of what to burn in the fireplace is one way to make greener choices.
If you're considering growing plants inside a greenhouse, here are 13 obdurate advantages you'll definitely like to know and utilize as well.
There are several inexpensive and non-toxic methods you can use to unclog drains in your home with ingredients you probably already have in your cabinets.