Isn't it great when you find a product that meets that desirable consumer trifecta of being good to the maker, good for the consumer and good for the planet?
The Willa Walker, an infant walking device, does just that. It is simply made from two natural materials: wood and cotton.
Willa Walker proudly claims that it does everything it can, on the production side of things, to minimize its carbon footprint and help babies to start make them (environmentally friendly footprints that is).
All of the materials are earth and human friendly, from the sustainable wood handle and rings finished with organic coconut oil, to the packaging that is 100% recycled. Willa Walker does its best to keep production clean, and does good in by donating to its environmental charity partners, Eden Reforestation Projects and the Lonely Whale Foundation.
The hardwood used to make the handle and rings comes from Masaya & Co. "Masaya uses small pieces of sustainably sourced tropical hardwoods left over from their production process. Masaya manages and operates tree plantations — helping to create jobs and return damaged land to its natural state."
When I received my Willa Walker in the mail, I was impressed by its lightweight and compact format.
It arrived in a handy cloth carrying case, which kept all the parts together and prevented the cotton strings from getting tangled. Apart from the device and its carry case, the only other item I received along with it was an instructions pamphlet that included some feel-good info about the company.
I appreciated the minimalist packaging and the fact that I didn't have to throw away a bag of plastic wrap, tissue or styrofoam after opening the box.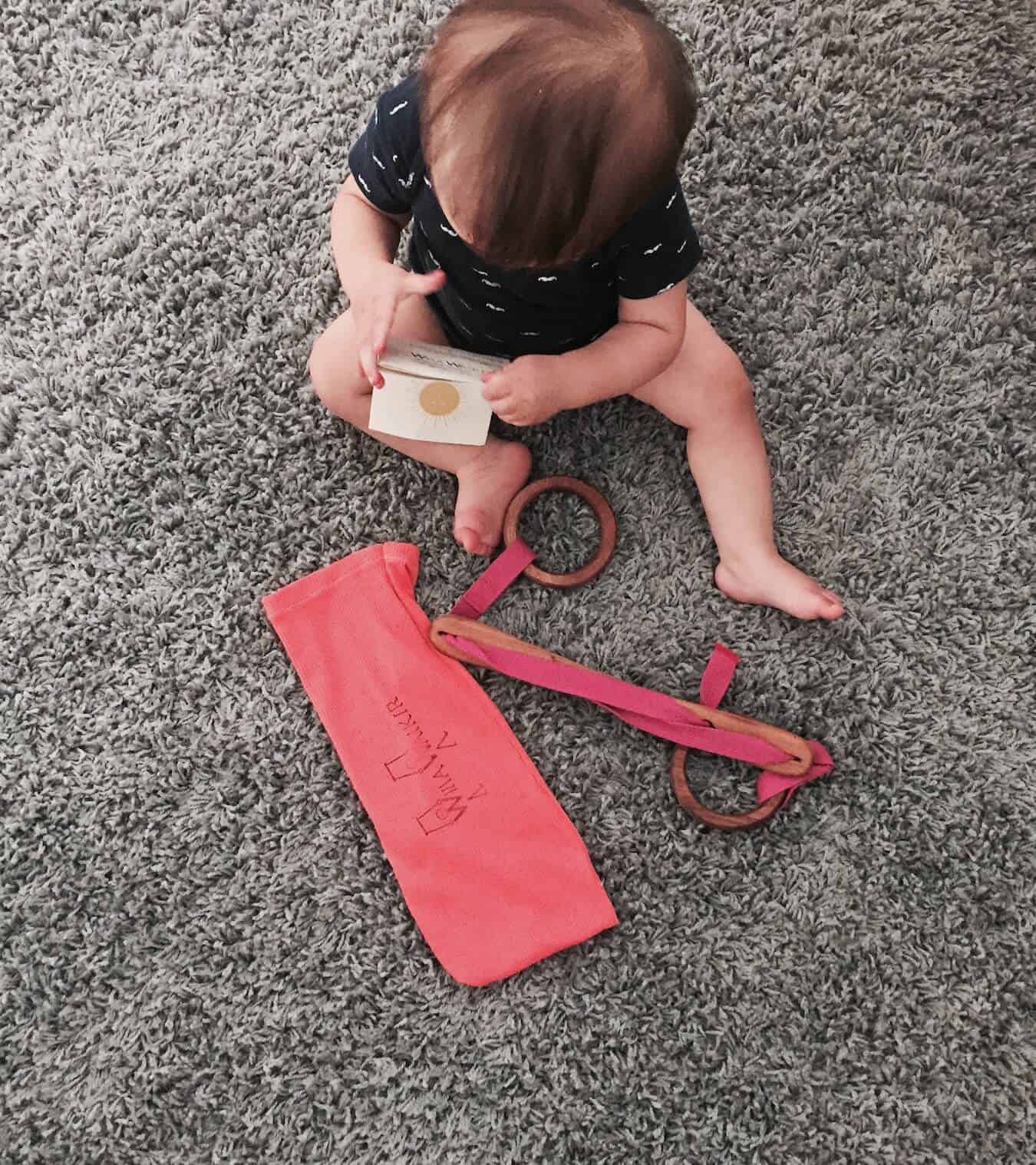 I had hoped to test the product out on my eight month old son, who has started to pull himself up and walk along furniture, but it's still a little early. He hasn't quite grasped holding onto my hands for support in the standing or walking process.
I can see nevertheless how easily this product works and how nice it would be on your back.
As any parent knows, your back goes through a lot with a little one as you constantly bend over to pick him/her up, carry baby on your hip, rock them to sleep and lift them in and out of the crib, car seat and high chair. I love the idea of a device that relieves the strain associated with holding your little one's hands as they learn to walk.
For baby, the swinging handles allows for some independence from mom and dad, but gives enough support that they'll still feel confident enough to master walking on their own.
The compact format and minimalist design make this product great for travel, so your little one can practice walking on all earthy terrain from a grassy park to a sandy beach.
I look forward to my little guy getting the hang of the Willa Walker and of course I can't wait to watch my son learn to walk on his very own.
This tool looks to make this huge developmental transition from crawling to walking a fun and comfortable one.