When you've got a really tough drain clog you're dealing with, whether it's in your sink or in your tub, it's not uncommon for most people to turn to a bottle of drain cleaner to clear out the mess.
But that's just a solution a problem that could have been prevented in the first place. So now to solve this preventable problem, you're going to pour a bottle of hazardous chemicals down the drain — that will eventually end up in our waterways.
You don't need to be a microbiologist to understand how pouring a chemical like this into a water system is a bad idea.
So, this is the problem that the TubShroom and SinkShroom have found a novel way to solve.
The collective "Shrooms" promise to catch all of the hair that would otherwise wash down your drains, and end up as the foundation for a clog, and catches it before it ever makes it down that far.
I had the opportunity to try out both the SinkShroom and TubShroom, and this review covers my thoughts on both.
The Review
How it Works
The first thing to say is that, yes, it works just as promised. Both the TubShroom and the SinkShroom were very effective at catching the hair that went down the sink.
It's unique design with tiny holes throughout the base and cylinder allows all of the water to pass through, while catching the hair. The hair that is caught is wrapped up around the base so it can easily be removed.
The Clean-Up
And it is really easy to clean up. Just pull the rubber stopper out from the sink or tub and, with a cloth or towel, wipe it down and dispose of whatever has been caught. You can clean it and put it back within literally seconds.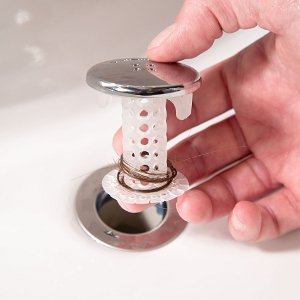 Installation
Both of the Shrooms were very easy to install. It only required twisting and removing the stoppers from both the tub and the sink and inserting the rubber stoppers in their place.
Design
The metal-coated stoppers make the design of the TubShroom and SinkShroom blend in well with the rest of the bathroom faucets.
If you're more adventurous when it comes to color selection, both the Tub and Sink Shrooms come in a variety of colors in a pure rubber style.
Price
Both the TubShroom an SinkShroom are very reasonably priced. Considering your average bottle of drain cleaner costs between $5-$10, paying just a little more than $10 for a SinkShroom or a TubShroom that will last a lifetime (or thereabouts) seems like a no-brainer.
Overall Thoughts
If you live in a household where you ever have to clean hair out of your drains, or you've ever given thought to using drain cleaner, this is the product for you.
The TubShroom and SinkShroom ensure you never have to pour a hazardous chemical down your sink again, which is a serious environmental benefit that cannot be understated.
You'll also save money and time in the long-run by not needing to buy drain cleaner anymore, and being able to quickly clean up any potential clogs before they make it down your drain.
[lasso type="table" id="1″ link_id="23184″]