As a new mom, I've quickly become hyper-conscious of all of the toxins hiding in everyday household cleaning products – from dish soap to bathroom cleaners. I have to admit that while I was always aware of the harmful chemicals in these products, it wasn't until I had a little guy around that I started to seriously think twice about keeping the products in the house.
In my search for eco-friendly household cleaners, I came across AspenClean, which was voted Product of the Year by the Canadian Consumer Survey of Product Innovation. The product line includes All Purpose Cleaner, Glass Cleaner, Kitchen Cleaner, Bathroom Cleaner, Super Scrub Powder, All-In-OneConcentrate and Dish Soap.
Unlike the household cleaners from brands such as Mr. Clean, Vim or Lysol, I actually know what more than half of the ingredients in the AspenClean line are. Some common and familiar ingredients you would even find in your cupboards – like coconut oil, naturally fragrant essential oils and vinegar.
And, rather than figuring out how much vinegar or baking soda to mix together to make your own household cleaners, you could use any one of these cleaners and feel just as good about it. Not to mention they're 100% Vegan and – I guess it goes without saying – are not tested on animals.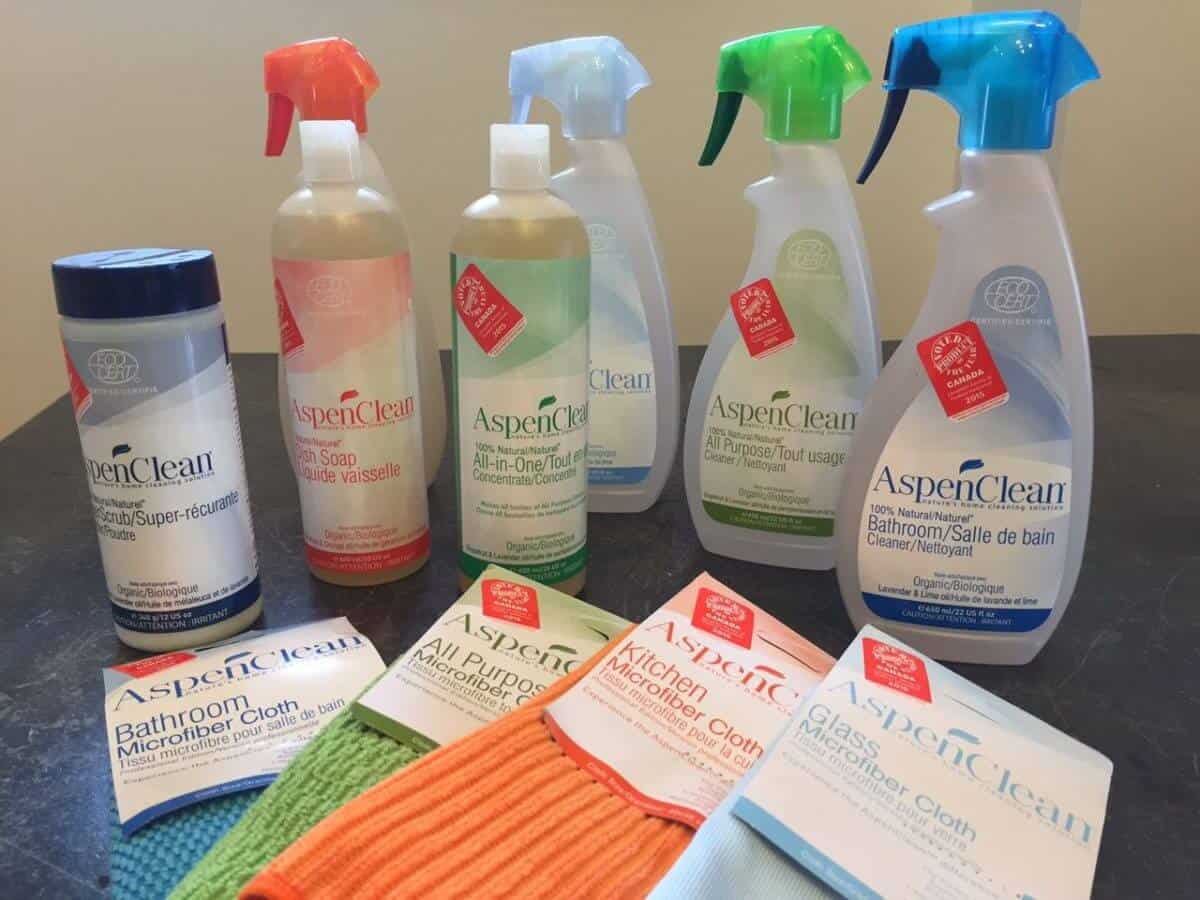 When it came down to the test, I was impressed by the effectiveness of the products. The window cleaner and the accompanying micro-fibre cloth designed specifically to be used with it is a favourite. It lacked the smell of ammonia you often get with glass cleaners and instead was lightly scented with 100% organic lime oil.
A little goes a long way with the dish soap and, again, I love the fresh – but not over-powering – scent of essential oils in it. I also found that the dish soap, bathroom cleaner and kitchen cleaner all lathered nicely, so I could use very little product and still get the job done. With some natural cleaners, it feels like you have to use half of a bottle in order to get any results.
The one product I could do without was the Super Scrub Powder. I tried it on the oven, but had just as much success with the Kitchen Cleaner when tackling the same task. And personally, I prefer the convenience of a spray bottle. The powder was more mess than it was worth.
Overall, I would definitely recommend these products to anyone wanting to clean green. The product line is a little bit on the pricey side, with the average price of a bottle around $9, but they are well worth the extra cost as far as value goes.
The company's website lists local retailers where products are sold, or they can be purchased online at AspenClean.Com, well.ca or MyVivaStore.com.