Keep Nature Wild is a brand that is dedicated to preserving the environment by creating awareness about littering and encouraging people to take action to keep nature clean.
The brand offers a wide range of outdoor products such as apparel, accessories, and gear, and is known for its signature slogan "Keep Nature Wild" which is prominently displayed on its products.
One of the key things that stood out to me about Keep Nature Wild is their commitment to making a positive impact on the environment.
Their mission is to inspire people to pick up trash and reduce waste, and they do this by organizing clean-up events and donating a portion of their profits to organizations that support environmental conservation efforts.
Keep Nature Wild picks up one pound of trash for every product sold, and to date they have collected more than 875,000 pounds of litter. This is something that is sorely needed in today's world, where littering and pollution have become major problems.
The brand's website is well-designed and easy to navigate, with clear and concise descriptions of each product. The images of the products are high-quality, and the color scheme and font choices give off a natural, outdoorsy vibe. The product pages include information about the materials used to make the product, the sizing options available, and care instructions, which are all important factors to consider when purchasing outdoor gear.
Keep Nature Wild picks up one pound of trash for every product sold
One thing that I particularly appreciated about the Keep Nature Wild website is the section that outlines their sustainability practices. This section details the steps that the company takes to minimize their environmental impact, such as using recycled materials in their products and packaging and using eco-friendly recycled materials for shipping their products. This level of transparency is important, as it allows customers to make informed decisions about the products they buy.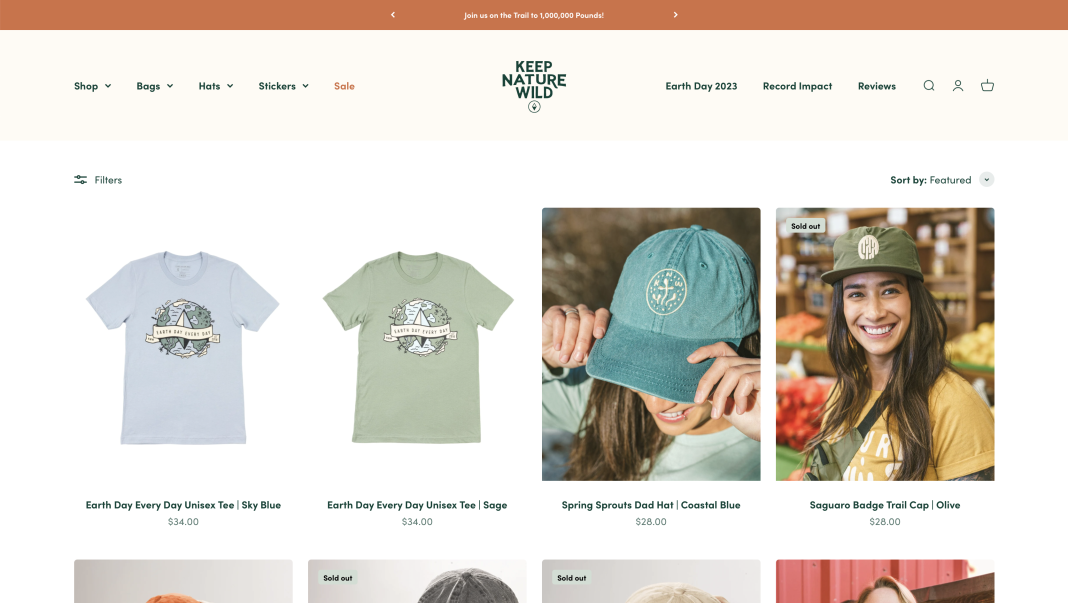 In addition to their commitment to the environment, Keep Nature Wild also places a strong emphasis on giving back to the community. The brand organizes community clean-up events at least once a month, where volunteers can come together to clean up local parks, beaches, and other natural areas. This is a great way to get people involved in environmental conservation efforts and make a tangible difference in their local communities.
Another aspect of Keep Nature Wild that I appreciated was their dedication to inclusivity and diversity. The brand has a wide range of sizes available for their apparel, which is a big plus for people who have struggled to find outdoor clothing that fits them well.
Additionally, the brand features models of various ages, ethnicities, and body types on their website, which is refreshing to see in an industry that has traditionally been dominated by a narrow definition of beauty. This is an important step towards making outdoor recreation more accessible and inclusive for everyone.
Overall, I think Keep Nature Wild is a great brand that is doing important work to raise awareness about environmental conservation and promote sustainable practices. Their commitment to giving back to the community is commendable, and their focus on inclusivity and diversity is a step in the right direction for the outdoor industry.
If you're looking for high-quality outdoor gear that is eco-friendly and socially responsible, Keep Nature Wild is definitely a brand worth checking out.