It's crucial to address the growing concerns surrounding indoor air quality and the health risks posed by mold and bacteria. In this context, we're excited to introduce you to Dorai Home, a pioneering company dedicated to revolutionizing the way we interact with our living spaces.
With a strong commitment to sustainability, innovation, and wellness, Dorai Home offers a range of cutting-edge products designed to prevent mold and bacteria growth naturally, contributing to a cleaner, safer environment.
Disclaimer
This review is based on our hands-on experience with the Dorai Home Bath Stone Mat. The opinions expressed here are solely ours and not influenced by any external factors. While we did receive a Dorai Home Bath Stone Mat for evaluation purposes, we have not received any compensation or incentives in exchange for this review. Dorai Home has had no editorial involvement in the creation or content of this review. Our aim is to provide an unbiased and honest assessment of the product based on our first-hand experience.
About Dorai Home
Dorai Home is at the forefront of reimagining our relationship with our living spaces. Their mission is to enhance our homes while making them healthier and safer. By harnessing the power of innovation and sustainability, Dorai Home has developed a line of revolutionary products that not only elevate the aesthetics of your living space but also promote a cleaner, healthier environment.
Dorai Bath Stone Mat
The Dorai Bath Mat takes bathroom hygiene to the next level. Crafted with the same innovative Diomat™ technology, it effortlessly absorbs excess water, keeping your bathroom dry and preventing mold and mildew from taking hold. 
We can't help but wish we had more of these versatile products in our home. They're not just perfect for our bathtub or shower but would also work wonderfully under the dog's water bowl and in various other places around the house.
What we Loved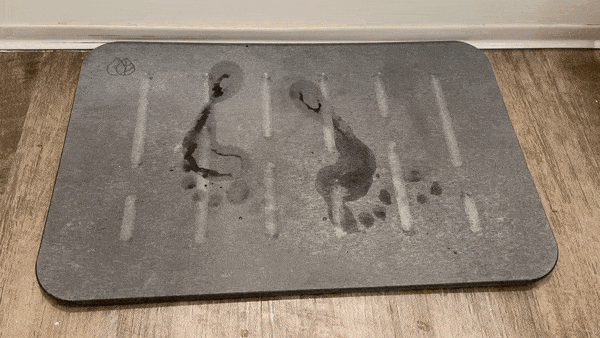 Dorai Home products offer several compelling reasons to make them your top choice:
Natural Protection: Dorai's products harness the power of natural materials to inhibit the growth of mold and bacteria, ensuring a healthier living environment.
Sustainability: Dorai Home is committed to sustainability, employing eco-friendly materials and processes that minimize their environmental footprint.
Superior Drying Times: We were impressed by how quickly water evaporated, leaving surfaces dry and mold-free. Conventional bath mats can hold moisture for up to 12 hours, while the Dorai Bath Mat dries within a mere 4 seconds. 
Fashionable: Each product seamlessly combines function and style, making them an elegant addition to any home.
Ease of Maintenance: These products are not only easy to care for but also easy to clean, making them a practical choice for any household.
Overall, the Dorai bath mat was a delightful and much-needed addition to our home! I was relieved because I had been bothered in the past by the prolonged moisture issues with typical bath mats. Furthermore, Dorai's dedication to sustainability was an extra benefit, allowing us to bid farewell to the conventional bath mats typically crafted from unsustainable materials, laden with chemicals, and prone to a short lifespan.
How It Works
Dorai products rely on Diatomaceous earth, a natural mineral made from fossilized aquatic organisms. This material, when exposed to moisture, traps and dehydrates bacteria and parasites, preventing their growth and proliferation. Additionally, Diatomaceous earth's unique properties allow it to hold up to 150% of its weight in water and contain millions of pores, facilitating rapid moisture evaporation.
The Bath Mat's technology wowed me as my footprints disappeared within moments of stepping out of the shower, leaving my bathroom dry and refreshed. Innovation and eco-friendliness at its finest!
Sustainability
Dorai Home's commitment to eco-friendliness and sustainability is evident in their choice of materials and production processes. Making sustainable lifestyle choices and choosing products like those from Dorai Home is crucial for reducing our environmental impact. 
By opting for eco-friendly alternatives, we contribute to a healthier planet, conserve natural resources, and help combat issues like climate change and pollution, ultimately creating a more sustainable and prosperous future for generations to come.
Final Thoughts
In our experience, Dorai Home's products exceeded our expectations. Not only do they effectively combat mold and bacteria, but they also do so in an eco-friendly and stylish manner. We're eagerly looking forward to testing out more of their products, especially the sink caddy and dog bowl stone.
Dorai Home offers a compelling solution for those seeking a healthier, more sustainable living environment. We highly recommend their products to anyone looking to elevate their home's hygiene and style while making responsible choices for the planet. 
Where to Buy