In a world increasingly conscious of its environmental footprint, Clean Cult has emerged as a beacon of eco-friendly cleaning solutions. We embarked on a journey to explore the effectiveness and sustainability of three of their standout products: liquid hand soap, liquid dish soap, and concentrated laundry detergent.
The unique twist? Each product comes with a reusable glass bottle and 100% recyclable refill packaging, aligning perfectly with our mission to reduce waste and choose sustainable options.
What We Loved About Each Product
Easy refill system with reusable shatter-resistant glass bottles
Reusable glass bottles are equipped with pumps for hand and dish soap, as well as a convenient no-mess pour spout for laundry detergent.
100% recyclable paper-wrapped refill packaging.
Powerful formulas free from harsh chemicals.
Gentle and refreshing fragrances
Now, let's delve into each product.
1. Liquid Hand Soap
Clean Cult's liquid hand soap is a revelation in hand hygiene. Infused with nourishing Aloe Vera, it not only cleans but also restores moisture, leaving your hands feeling heavenly. What sets it apart from traditional hand soaps is its skin-friendly formula, cruelty-free ingredients, and gentle approach to nourishing your skin.
The eco-friendly, 100% recyclable refill packaging is a cherry on top, making it better for the planet. What we absolutely loved about Clean Cult's liquid hand soap is the way it combines effective cleansing with skin-nourishing care, with a delightful lavender fragrance.
2. Liquid Dish Soap
The liquid dish soap from Clean Cult transforms dirty dishes into sparkling clean ones while pampering your hands and keeping your home plastic-free. Unlike conventional dish soaps laden with harsh chemicals, this one is free from phthalates, phosphates, petroleum-based ingredients, dyes, SLS, and SLES.
The eco-friendly refill packaging, paired with a reusable glass bottle, significantly reduces plastic waste, making it a sustainable choice for your kitchen. What truly impressed us about Clean Cult's liquid dish soap is its ability to effortlessly clean dishes, all while leaving a delightful lemon verbena scent in the air.
3. Concentrated Laundry Detergent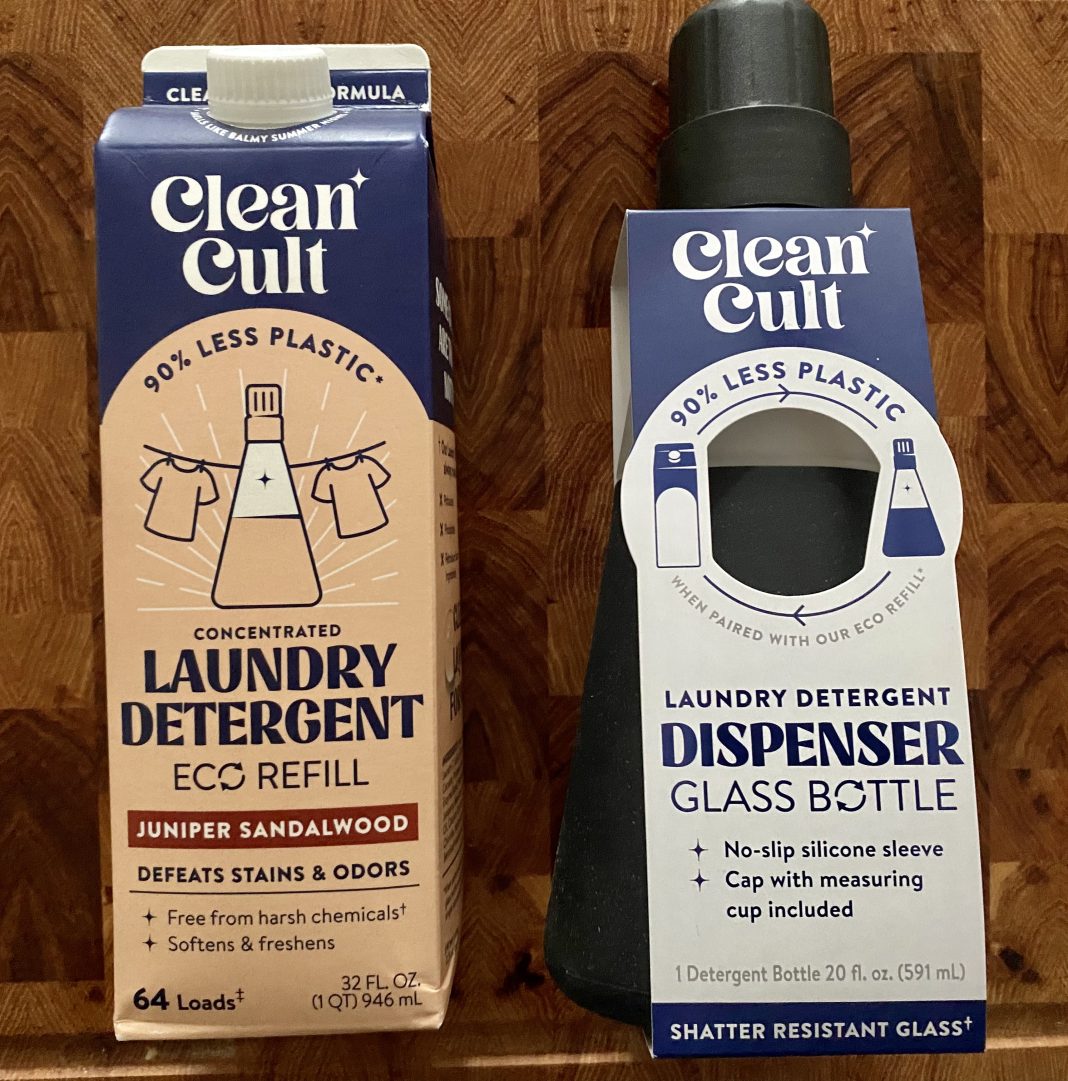 Laundry day becomes a breeze with Clean Cult's concentrated laundry detergent. A little goes a long way with just half an ounce per load. The detergent works wonders, delivering crisp, clean clothes every time. This 32 oz detergent is a powerhouse that conquers stains and odors, compatible with all water temperatures and machine types.
Once again, the eco-friendly refill packaging, combined with the reusable glass laundry detergent bottle, ensures a minimal environmental impact. What truly delighted us about Clean Cult's concentrated laundry detergent is how it not only tackles stains and odors effectively but also leaves your clothes smelling wonderfully clean and fresh.
Clean Cult's Environmental Commitment
Clean Cult's dedication to sustainability shines through its recyclable paper cartons made of 75% renewable material. These cartons biodegrade in just 5 years, a stark contrast to the 450 years it takes for plastic bottles or pouches. This environmentally friendly approach is commendable and aligns with our responsibility to protect the planet.
The Importance of Choosing Sustainable Soaps and Containers
In a world grappling with plastic pollution, Clean Cult's choice of reusable glass containers and eco-friendly refill options sets a gold standard. Choosing sustainable soaps and containers is not just about convenience; it's about embracing a lifestyle that respects the planet's finite resources and future generations. Clean Cult's paper cartons serve as a stark reminder that our choices can make a world of difference.
Final Thoughts
Plastic pollutes our streets, our oceans, and even our bodies – but it's not going anywhere until we choose not to use it. Clean Cult offers an inspiring alternative in its products, combining powerful cleaning formulas with sustainable packaging solutions.
Our experience with Clean Cult has been nothing short of exceptional, leaving us with a cleaner home, a cleaner conscience, and a cleaner Earth. It's time to make the switch to Clean Cult and be part of the solution to our planet's pollution.