If you're looking for a reliable and portable off-grid power supply, look no further than the Anker 533 PowerHouse. This battery and solar panel combo is perfect for anyone who wants to be able to use their devices wherever they go, without having to worry about whether or not there will be an outlet available.
The Anker 533 PowerHouse can be used to charge phones, tablets, laptops, and even small appliances. It's also great for camping, RVing, off-roading, and any other activity that takes you away from the grid!
What is the Anker 533 PowerHouse?
The Anker 533 PowerHouse is a battery that can be charged via solar power or direct from your wall outlet. It has four USB ports, so you can charge your devices directly from the battery. It also has a built-in flashlight.
The 533 PowerHouse is designed to be used for camping, hiking, backyards, or any other time you need to recharge your devices without access to an outlet.
The 533 model is part of a larger family of PowerHouse batteries made by Anker, with various charging and size capacities.
Features & Benefits
Size and Weight
The official weight of the battery is 10.2 lbs (4.62 kg), and it measures 10 × 5.8 × 5.5 in (25.5 × 14.8 × 13.9 cm). It has a rugged exterior with reinforced corners on all 8 sides, making it durable for all kinds of outdoor uses.
Capacity
The Anker 533 PowerHouse packs enough of a charge for any mobile device. With 388Wh capacity, it can provide a charge to your phone that'll last through the day. It has enough capacity to charge an iPhone more than 20 times, or a MacBook Air more than 20 times. This means that this little guy is mighty enough to not only fill up your gadgets but also give you some extra power when needed – like making sure everything works properly on vacation when you don't have access to a wall outlet.
Device Compatibility
The Anker 533 PowerHouse comes with enough outlets to charge 8 separate devices simultaneously. In addition to its 300W AC outlet, it also includes 2 DC ports, 3 USB-A ports, a 60W USB-C port, and a car socket. So not only can you charge all of your mobile devices, but you can also charge any appliances that require less than 300W.
Charging and Recharging
You can charge the PowerHouse either by connecting to the DC port at the back of the battery or by connecting to the USB-C port. You can recharge the battery via both ports simultaneously until it hits 81%, at which point it charges exclusively via DC.
You can charge the battery either by connecting it to a wall outlet or via solar panels (as pictured above), that are sold separately from the battery. If you're recharging with the included power adapter, it takes about 6.5 hours to get to a full charge, but if you combine it with the 60W Power Delivery wall charger (not included), it can recharge in just under 4.5 hours.
Powering Devices
With the PowerHouse 60W USB-C port, you can charge your phone or laptop fast—up to 50% in just over 40 minutes!
Using the Anker PowerHouse 533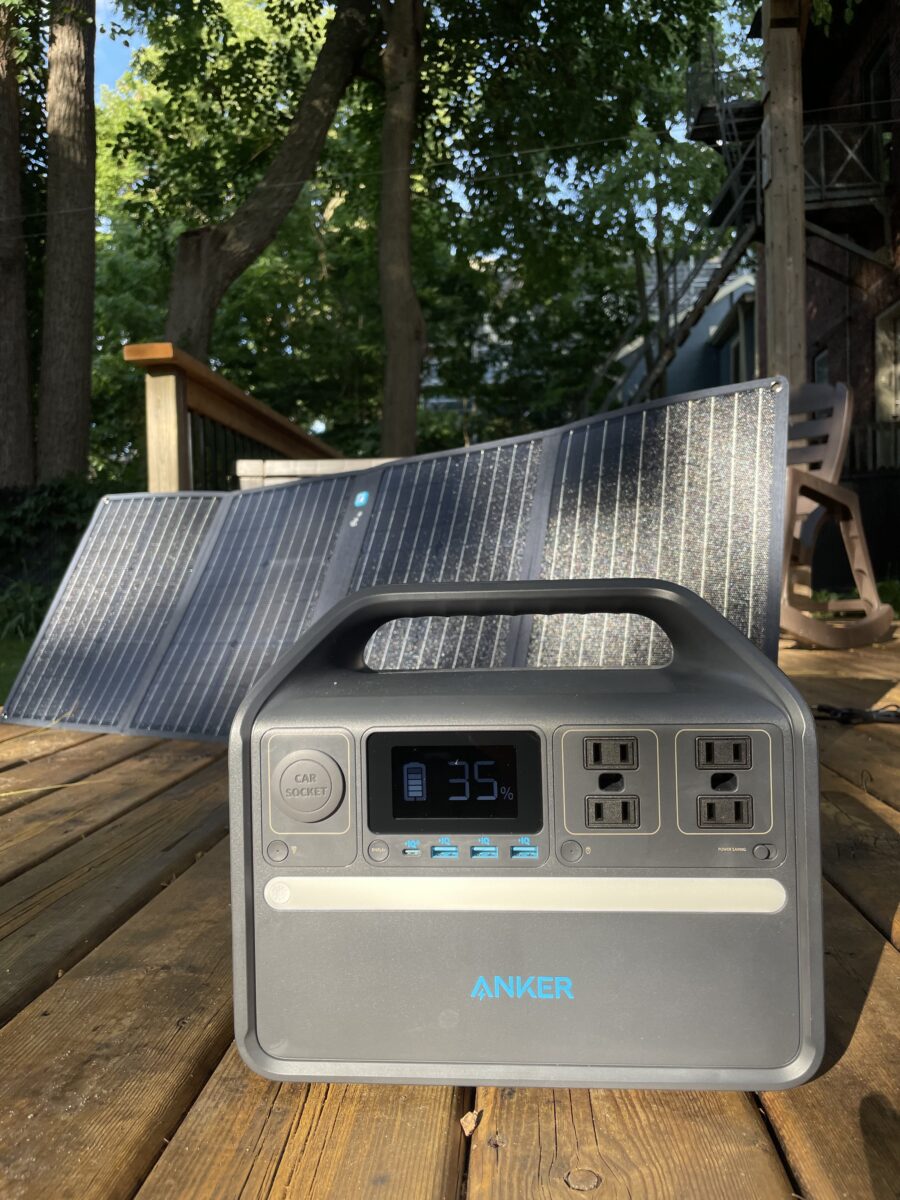 Prior to testing out the Anker PowerHouse, I had used the Anker 625 solar panel, which is a great portable solar panel option that allows for on-demand charging. The main downfall of that product is its lack of an internal battery to hold a charge.
But pairing the solar panels with a solar battery makes for a powerful duo that can enable the type of off-grid charging that would be well-suited for an outdoor lifestyle.
The battery itself looks and feels modern, yet is also highly durable. It has an easy-to-carry handle and intuitive display that lets you know how much charge you are working with. And the fact that it has built-in support for USB-A and USB-C ports means you won't have to carry extra pairs of adapters with you when you need to charge your devices.
It also has a light bar across the front of it that serves for a bright lamp in dark spaces.
In terms of charging the devices, it is as easy as plugging them into the appropriate socket on the front of the device.
The only issue I encountered with the PowerHouse is its weight, and how it may limit where it can be used. As mentioned, it weighs around 10 lbs and is comparable to the weight of a standard car battery. It is not overly heavy for the average person, but if you're considering taking it on a long hike or canoeing somewhere with it, you may find yourself wishing you had a lighter alternative.
Overall
If you're looking for a reliable and portable way to charge your devices while on the go, the Anker 533 PowerHouse is definitely worth checking out. It's perfect for anyone who wants to be able to stay connected even when they're far from an outlet, and it's also a great choice for camping or other outdoor activities.
amzn_assoc_tracking_id = "greeidea0b-20";
amzn_assoc_ad_mode = "manual";
amzn_assoc_ad_type = "smart";
amzn_assoc_marketplace = "amazon";
amzn_assoc_region = "US";
amzn_assoc_design = "enhanced_links";
amzn_assoc_asins = "B09FF46FQ9";
amzn_assoc_placement = "adunit";
amzn_assoc_linkid = "10d2a815f90044dfc61e07e2e972456b";
Have any questions about this nifty little device? Let us know in the comments!