Welcome to our review of the BLUETTI PV200 Solar Panel—an eco-friendly energy solution designed to power your adventures sustainably.
In an era where environmental consciousness is paramount, incorporating solar technology into daily life is a pivotal step towards a greener future. BLUETTI, a reputable name in renewable energy, has crafted the PV200 Solar Panel with a focus on efficiency, durability, and ease of use. In this review, we'll delve into its features, benefits, and how it can seamlessly integrate into your eco-conscious lifestyle, even if you're new to solar power technology.
Let's harness the power of the sun and uncover the potential of the BLUETTI PV200 Solar Panel.
Disclaimer
This review is based on our hands-on experience with the BLUETTI PV200 Solar Panel. The opinions expressed here are solely ours and not influenced by any external factors. While we did receive a BLUETTI PV200 unit for evaluation purposes, we have not received any compensation or incentives in exchange for this review. Bluetti has had no editorial involvement in the creation or content of this review. Our aim is to provide an unbiased and honest assessment of the product based on our first-hand experience.
Brief Overview of the BLUETTI PV200 Solar Panel
The BLUETTI PV200 solar panel is one of the latest offerings from the renowned power solutions brand, BLUETTI. This 200W foldable solar panel has been designed to provide efficient solar energy conversion and easy portability. It's robust, flexible, and versatile with an easy to use kickstand to align the solar panels with the angle of the sun.
The panel is compatible with most solar generators and portable power banks, making it an excellent addition to any solar power setup, whether at home or in the great outdoors.
But does it live up to the hype? Let's delve deeper to find out.
Build and Design: A Closer Look at the BLUETTI PV200
When talking about solar panels, their physical configuration plays a vital role, both in terms of durability and efficiency. At first glance, the BLUETTI PV200 strikes the balance between solid build and pleasing aesthetics. Ideal for portable use, this solar panel features a foldable design making it easy to carry on treks or camping trips.
Compact and Portable: It folds down to a size that is easy to transport and set up wherever power is needed.
Durability: Despite being lightweight, the solar panel promises longevity with its robust construction, designed to withstand the rigors of outdoor use.
Aesthetics: It carries a no-nonsense, clean design that doesn't compromise on its sleek appeal.

Advantages of BLUETTI PV200 Solar Panel
There's a wealth of features to appreciate about the BLUETTI PV200 solar panel. We have compiled the main advantages to provide a clear picture of what you can expect.
High Power Output: Performance of the BLUETTI PV200
One of the striking attributes of the BLUETTI PV200 is its impressively high power output. It promises to deliver up to 200W of power, making it an excellent choice for powering most of your devices. Plus, it's equipped with a high-efficiency solar cell that achieves a conversion rate of 23.5%, ensuring you get the most energy possible from the sun.
Whether you're using it at your camping site or as a backup power source at home, the performance of the PV200 consistently impresses. 
Portability Aspect: Taking BLUETTI PV200 Anywhere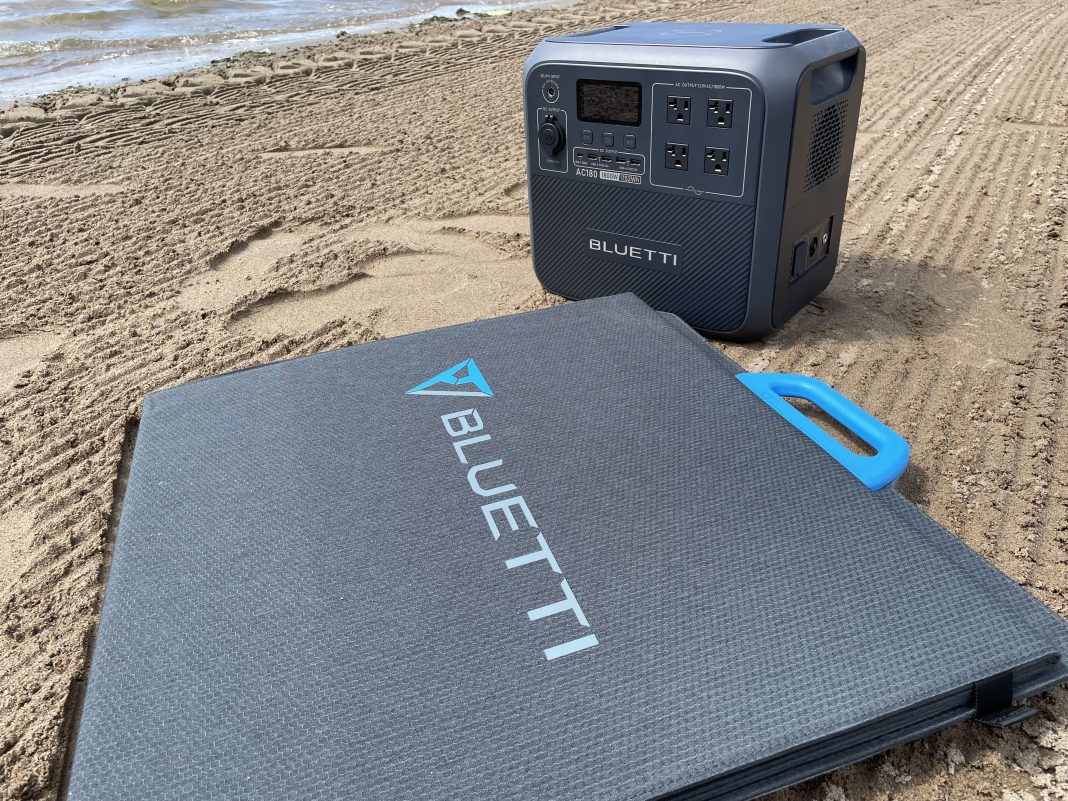 The PV200 understands the need for on-the-go portability. It's incredibly lightweight and compact, making it perfect for outdoor enthusiasts. With this solar panel, you can stay connected without compromising your mobility. Its foldable design allows easy packing and it comes with a carrying handle, so you can take your green energy source with you, wherever you go.
Durability: How Long Does the BLUETTI PV200 Last?
Durability is another crucial factor to consider when investing in a solar panel. Thankfully, the BLUETTI PV200 shines in this aspect. It's made with rugged polyester canvas that offers weather-resistant outdoor durability. Also, its solar cells are protected by a durable ETFE film that prolongs its life, ensuring that it will serve you for many years. This sturdy construction does not sacrifice flexibility, maintaining the necessary bend to suit different installation spaces. 

In conclusion, the high power output, portability, and durability makes the BLUETTI PV200 a versatile and robust choice in the market of solar panels.
Detailed Feature Inspection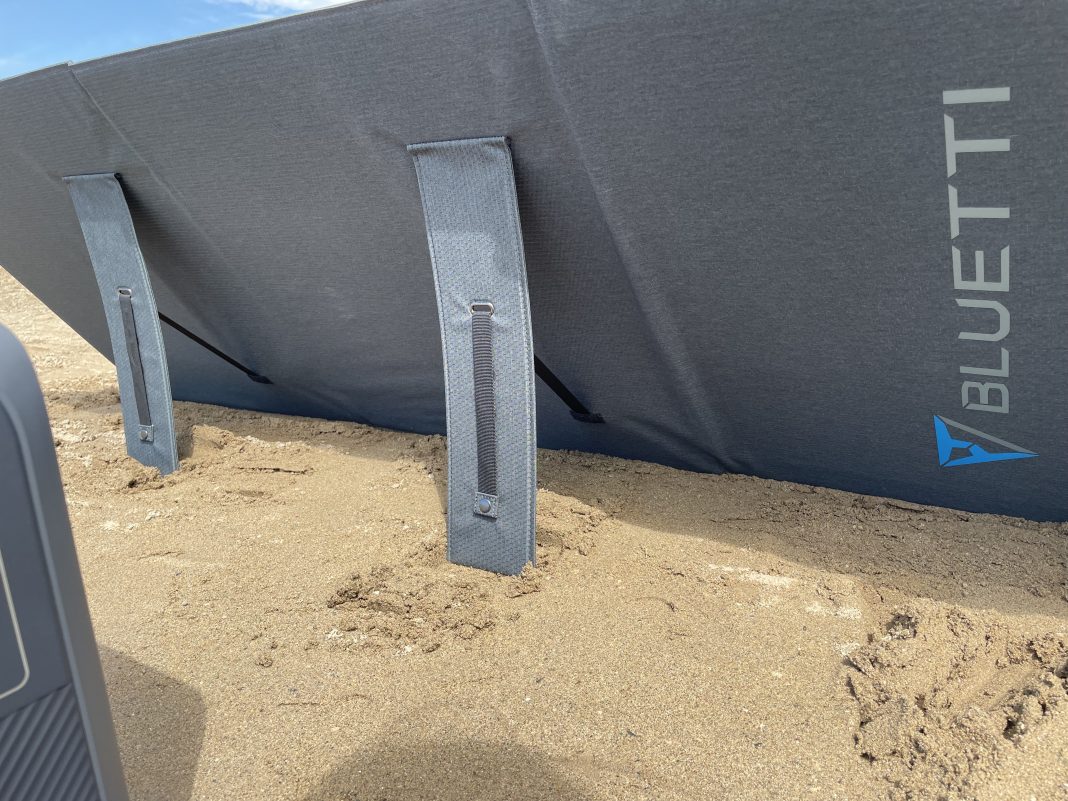 In this section, we'll be taking an in-depth look at some of the key features of the BLUETTI PV200 Solar Panel. We will dissect everything from its solar cell efficiency to its integrated power system, and even its resilience to environmental factors. So, let's dig in.
High-efficiency Solar Cell
First up, the heart of this excellent device – its SunPower Solar Cell. The BLUETTI PV200 uses one of the most top-level SunPower solar cells available in the market. This type of cell is renowned for:
High efficiency: Promising up to 23% conversion efficiency, it turns more sunlight into power.
Durability: Its robust design ensures long-lasting power generation, even in less than optimal conditions.
In short, the high-performance SunPower cells offer superior power output per square inch, making it a compact yet potent solution for portable solar power.
Integrated Power With Your Devices via MC4 Connector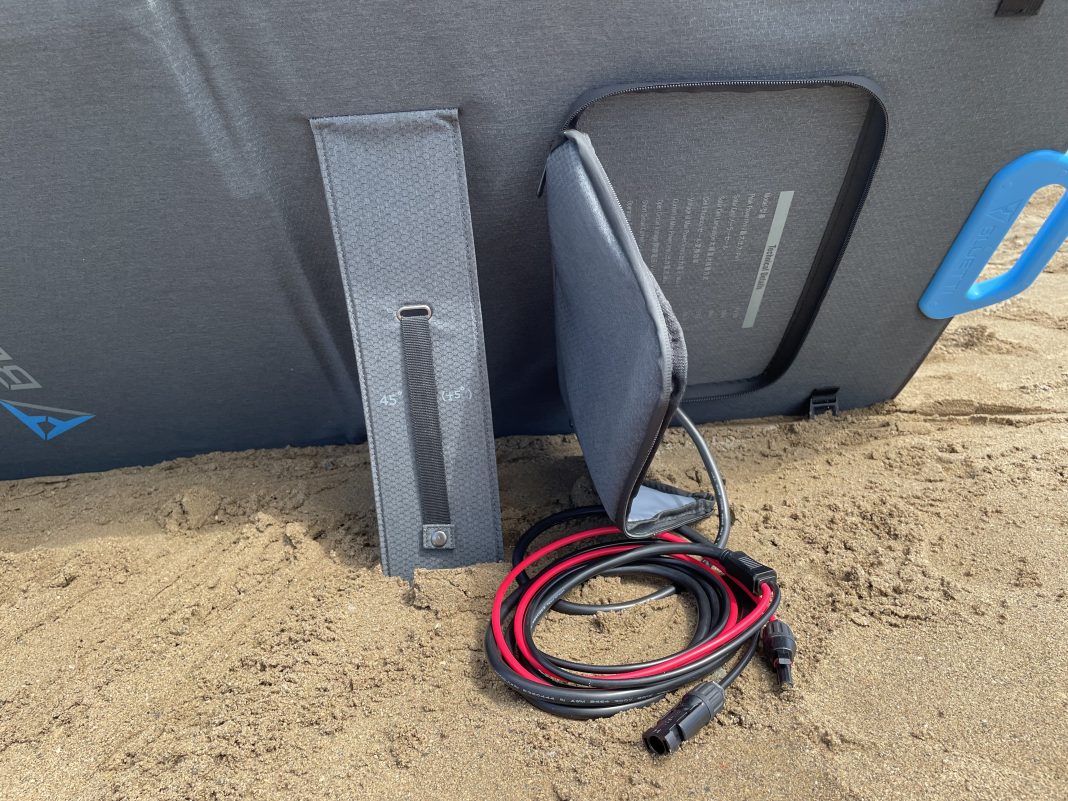 Of course, the power generated needs to be used, and that's where the BLUETTI PV200's integrated power system comes in. The PV200 has a Standard MC4 Connector that can connect to most solar generators.
I tested the PV200 with the BLUETTI AC180 Portable Power Station and the results were impressive. The connection was seamless and the panels immediately started generating power for the AC180 that I was then able to use to power my devices via USB or DC output.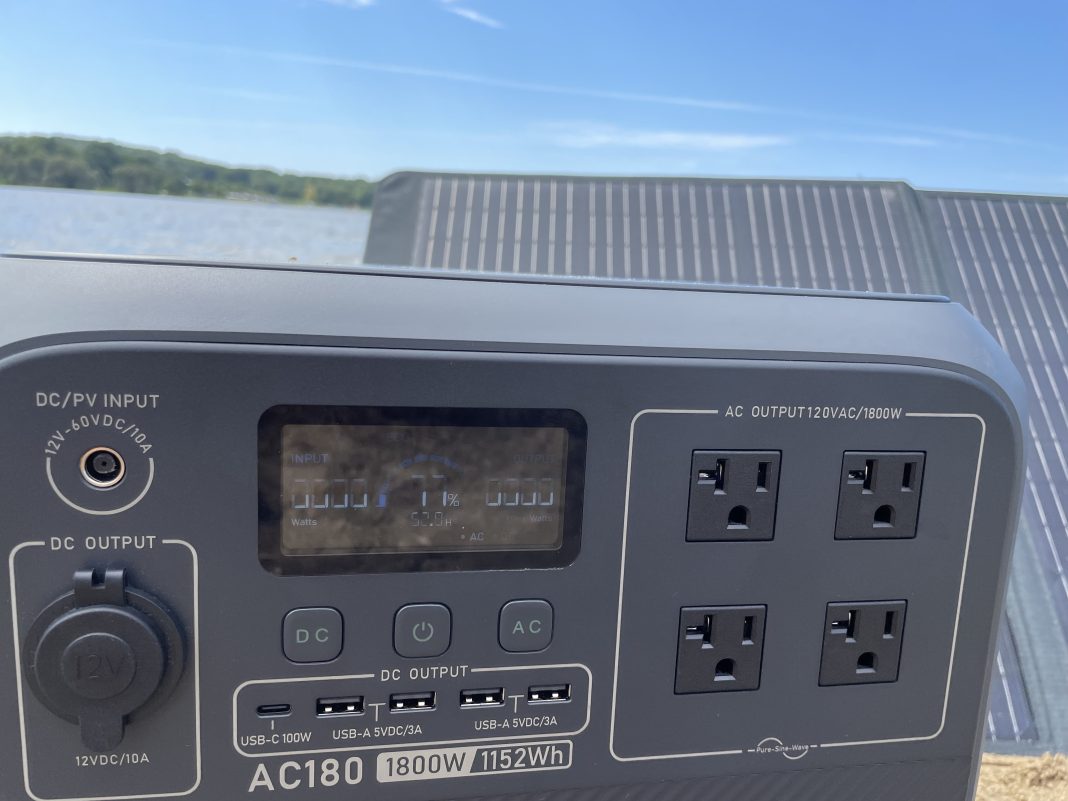 Waterproof and Dustproof Capabilities
Last but not least, the BLUETTI PV200 is designed to brave the elements. Sporting an IP65 waterproof rating, it ensures protection from the inevitable drizzles or damp conditions. Meanwhile, its dustproof capabilities prevent damage from airborne particles, enhancing the panel's durability. Therefore, whether you're using it on a sunny beach or a dusty desert, this solar panel will not let you down.
Possible Drawbacks of the BLUETTI PV200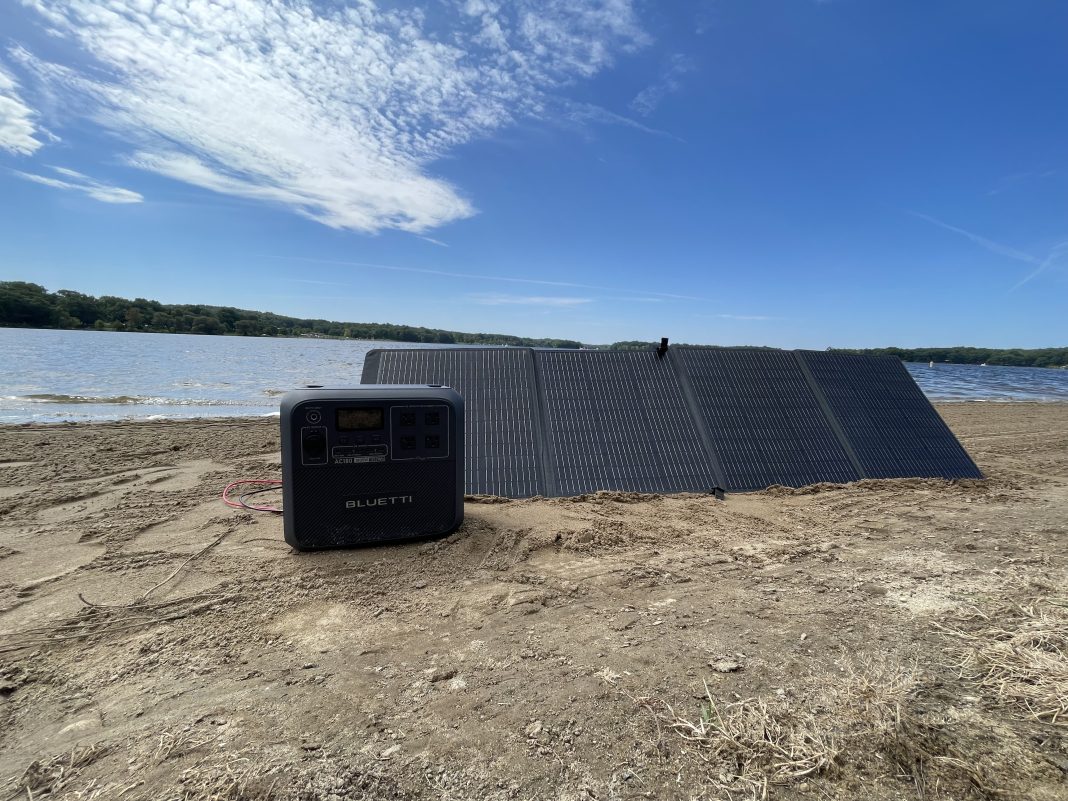 Just like every coin has two sides, the BLUETTI PV200 has its potential drawbacks as well. As part of this unbiased review, it's crucial to discuss these, to help you make an informed decision. 
Size and Weight: Is it Too Bulky?
The BLUETTI PV200 solar panel boasts a powerful performance, but it does come at a cost when it comes to its size and weight. Weighing in at 16.1lbs and with dimensions of 23.2 × 23.2 × 24.8inch (59 × 60cm) when folded and 89.2in (59 × 226.5cm) when unfolded, it's not the smallest or lightest solar panel available. 
If you plan to use the solar panel in a fixed location, like your home, its size might not be a significant concern.
However, for adventurous souls looking to employ solar energy on the go, its weight and dimensions could pose a challenge in terms of ease of transportation.
Price Comparison: Is the BLUETTI PV200 Worth the Investment?
Also worth noting is the price tag of the BLUETTI PV200 – $449 USD at the time of publishing. Given its exceptional efficiency and capacity, it comes with a higher entry cost as compared to some other solar panels on the market. On the brighter side, its durability and advanced features do make up for the initial investment, in our view.
In the Field: Real-world Performance of the BLUETTI PV200
Now, let's dive into the most crucial aspect of any solar panel – its performance in the real world. Here, we'll break down how the BLUETTI PV200 fares in various weather conditions and how it holds up over time.
Charging Efficiency in Various Weather Conditions
One significant feature of the BLUETTI PV200 is its ability to harness solar power in differing weather situations. The use of high-efficiency solar cells ensures that this panel charges effectively regardless of the conditions. Here are some particularly noteworthy points:
On clear, sunny days, the BLUETTI PV200 can generate up to 200W of power, enough to cover most of your outdoor power needs.
In cloudier climates, while the efficiency drops as expected, it still continues to animate rather impressively when compared to its counterparts.
Longevity and Dependability: Longer-term User Feedback
Longevity is a critical factor in a solar panel, and based on user reviews, the BLUETTI PV200 doesn't disappoint. It not only shows impressive resilience in harsh weather conditions, but the robust design and high-quality materials used in its construction also ensure that it lasts.
So, if you are after a renewable energy source that will be able to tough it out for the long haul, this solar panel seems to be a strong contender.
Conclusion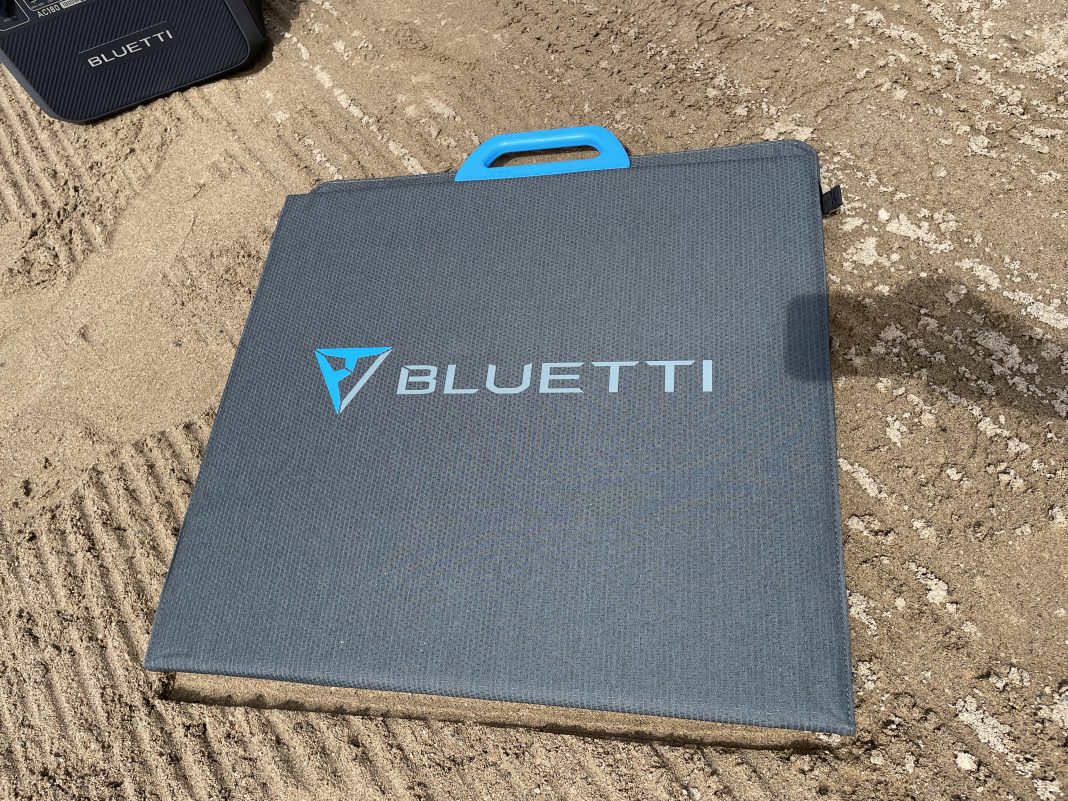 We've scoured the ins and outs of the BLUETTI PV200 solar panel, and it's clear there is much to appreciate. 
Weighing the Pros and Cons: Is It Worth The Investment?
The BLUETTI PV200 truly shines with its easy setup process, robust build quality, ample power output, streamlined portability, and compatibility with other Bluetti products like the AC180 and EB70S. Plus, it's a beautiful embodiment of green technology that provides reliable renewable energy.

However, it's worth mentioning that some users have found the panel to be a bit heavy and quite sizable, making storage a potential issue. Also, it's on the pricier side compared to some competitor offerings.

To summarize, here are the key points:
Easy installation
High-quality build and performance
Portable and compatible
Represents renewable energy
But:
Weight can be challenging for long treks
No option for directly charging devices
Higher price range ($449 USD at time of publishing)
Final Verdict: BLUETTI PV200 Solar Panel Review
All in all, the BLUETTI PV200 is a worthy investment for those seeking a reliable and potent source of solar power. If the weight and cost aren't deal-breakers for you, this solar panel, with its top-tier features and performance, makes an excellent addition to any renewable energy setup.
Where to Buy