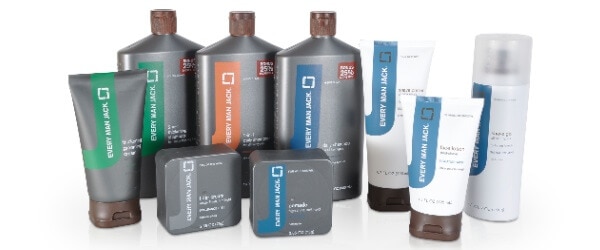 When it comes to finding eco friendly or natural grooming and beauty products for women, it's relatively easy. Finding quality green grooming products for men, on the other hand, is a bit more difficult. Although the guys could easily use the women's stuff, some of just don't want to smell like lavender and daisies all the time.
That's why Every Man Jack products have such a great appeal to the 'green' crowd – the ingredients are natural, but still maintain the masculinity that men want in their shower and grooming products.
Natural Ingredients
I took a quick look at a leading brand of men's body wash I had used and compared it to Every Man Jack – take a look at the comparison chart below and see for yourself how different the ingredients are:
Every Man Jack
"The Other Stuff"

Coconut-derived surfactants
Cedarwood oilsRosemary and Sage essential oils
No Parabels
No sodium lauryl sulfate
No phthalates
No dyes
No animal testing

Cocamide MEA
PPG-9
Ammonium Chloride
Blue
Although this sample ingredients comparison is only of the Every Man Jack bodywash, it should go without saying I won't be using "the other stuff" filled with chemicals again any time soon. I recommend taking a look at the ingredients in the body wash you're using now and googling them to find out more information on what exactly you're rubbing all over your skin every day.
Every Man Jack product line
Every Man Jack isn't limited to just body wash – they have an entire range of eco-friendly mens grooming products, including:
Soap bars
Shampoo & conditioner
Pomade and hair grooming cream
Body scrub
Deodorant
Face wash and cream
Shave cream
And kits including bundles of the above items
Green Grooming
All in all, if you're a guy who is looking to keep your bathroom and shower products as green and natural as possible, but don't want to give up smelling like a dude, Every Man Jack is probably going to be right up your alley.
Order any of their products direct from the source at the Every Man Jack online store.