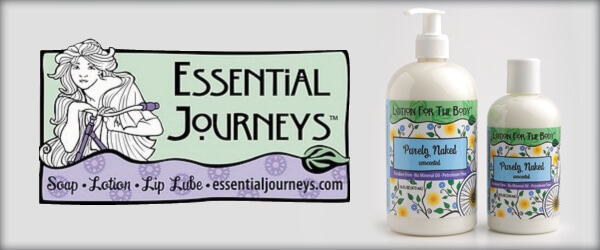 With many of our editors looking to stay active all winter, as we have made friends with Jack Frost, we are always on the look out to for skincare that can keep up with us.
We heard about a lip lube (that was natural and environmentally aware) designed for cyclists and outdoor enthusiasts, which could also double as nose and ear protection from Essential Journeys. We also saw that they made beautiful handmade soaps that were just so pretty we decided to take them for a test in the shower post workout.
So, what did we test:
The Pedaling Peppermint Lip Lube – INGREDIENTS: Saponified palm and coconut oils, purified water, glycerin, Vitamin E, Peppermint Essential Oil, natural pigments.
A Slice of the Purley Peppermint Soap – INGREDIENTS: beeswax, cocos nucifera (coconut oil), helianthus annuus (sunflower oil)  mentha piperita (peppermint oil), vitus vinifera (grapeseed) oil, lanolin, tocopherol  (Vit E).
All of the ingredients are sourced from within North America, the farthest ingredients coming from Texas to this Ashville, North Carolina business. Owner, Kimberly Masters, is a vegetarian of 20 years and use a vegetable based glycerin, for those of us who like to know these things.
The delightful soaps are made by hand in Kimberly's home studio. The patterns in the soap, are also made of soap just pigmented differently to stand out (we love the candy cane one).
Due to the natural ingredients, the soap and Lip Lube, when washed down the drain, do not harm the water and actually biodegrade into the soil as natural nutrients.
As a sustainable practice, Essential Journey's, reuses 98% of the packaging sent to them to send out their orders to customers and retail stores. Currently, they do use some corn based bags to wrap the soaps in (and tie with ribbon), but mostly use saran wrap. Currently the team is further developing other packaging that also allows the soaps to be showcased without allowing the soap to move around and smear the packaging, which is the current reason they use saran wrap.
For the Lip Lube, the plastic tube can be recycled in a normal blue bin.
Not yet a part of the Leaping Bunny, due to costs, this is a goal of Kimberly's in the future.
Did they work? AMAZINGINGLY WELL.
The Lip Lube was VERY long lasting – about 4 hours before you needed to reapply. It was smooth, not grainy, as some natural products can be.
At first we were a bit skeptical about the peppermint soap. Peppermint and toothpaste we are all for, but peppermint for a body soap…hmmm. Well, we have now discovered that nothing is a better wake-up call than peppermint soap. In the morning your senses just light up when you use this soap! Post work-out, it gives you that boost of energy to get you moving through the day. It is smooth and so far 2 weeks of using it and we still have about 40% of it left! So, much more long lasting when compared to a traditional bar.
Grade: B.
We look forward to seeing this company grow and develop its sustainable practices. Their innovations around packaging their product, we are sur, will help other vendors with similar challenges and we look forward to celebrating their joining and being recognized by Leaping Bunny and other environmental certifications.