I have gone through many pairs of earbuds in my day. I buy them, they get tangled, I lose them. It's become somewhat of a cycle in my world, and I was just starting to get used to having to buy a new set every few months. That was, until, I was introduced to the Meze 11 Deco earbuds.
Meze's website describes the 11 Deco as having a "crisp but warm, natural sound". I tend to agree with that description. Apparently the handcrafted beechwood enclosure has something to do with this sound experience. I can't say for certain that is why, but I can say that my music sounds amazing through them.
As I mentioned earlier, I have gone through a lot of headphones in my day. I tend to stick with the in-the-ear variety, simply for ease of portability. One thing all of my previous pairs of headphones have had in common is that they were all of fairly poor quality, so when I first listened to my music through something of actual quality, I noticed the difference immediately. There is no fuzziness, no cutting in and out if I accidentally move the wrong way while wearing them, and I can truly hear all the notes my music was intended to have. My ears feel so pampered while listening through the 11 Deco.
The earbuds come with 3 sizes of the silicone bit to fit a variety of ears. I find mine fit best with the standard size, and they stayed in very well while I made a fool of myself shaking my head around trying to get them to fall out. That being said, however, they do tend to feel a bit loose after I've been on the treadmill for a few minutes with them. They haven't fallen out completely, but I feel compelled to continuously push them back into my ear to keep them feeling secure.
In addition to the alternate silicone sizes, the Meze 11 Deco earbud headphones come with an extremely handy white leatherette carrying case that is referred to on the box as "EVA"— or Ethylene vinyl acetate. My days of losing and tangling earbuds are behind me, folks. I'm telling you, this is the breakthrough I've been waiting for. I just wind up the cord, zip them up in the case and stick it in my bag, and when I need to grab them, there they are, just as untangled as I left them. It's a miracle. There's enough room in the case to keep a memory card or a house-key or some other exciting secret, so you can take the whole case on your run (and attach it to you using the included carabiner).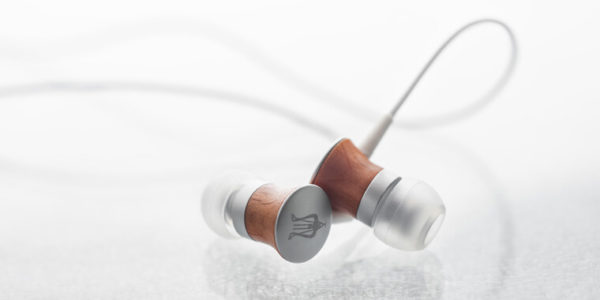 All in all, I would give these earbuds 4 out of 5 stars. Their sound quality is fantastic, they look sleek, they are comfortable in my ears, and that carrying case is a life saver. The fact that the volume control is lacking compounded with the slightly expensive price tag ($79 on the Meze website) are the only things stopping me from giving a full 5 stars.
[button color="green" size="large" type="square_outlined" target="_blank" link="http://www.amazon.com/gp/product/B00HF8IXBS/ref=as_li_tl?ie=UTF8&camp=1789&creative=390957&creativeASIN=B00HF8IXBS&linkCode=as2&tag=greeidea0b-20&linkId=74RE3TS3KZBPXZMB"]BUY NOW[/button]