I love sunglasses. I wear them every day, even when it's cloudy. I find that on the rare day I don't have my sunglasses with me, that my eyes are very sensitive to brightness. I suppose you could say that I am picky about my sunglasses, the lenses in particular. I love an extremely dark lens that completely hides my eyes. I think it makes me look mysterious.
That said, I have been wearing the same aviator-style plastic frames for going on four years now, so I figured it was time for an update. I received my ICU Eyewear "Retro Square" shades in the mail and I've been wearing them for about 2 weeks now. I love the bright pastel colours of the frames and that they are extremely noticeable and distinctive. I have been getting complimented on them at least once a day. These frames are so fun, and they totally spiff up an otherwise boring outfit. They are definitely the centre-piece of any outfit.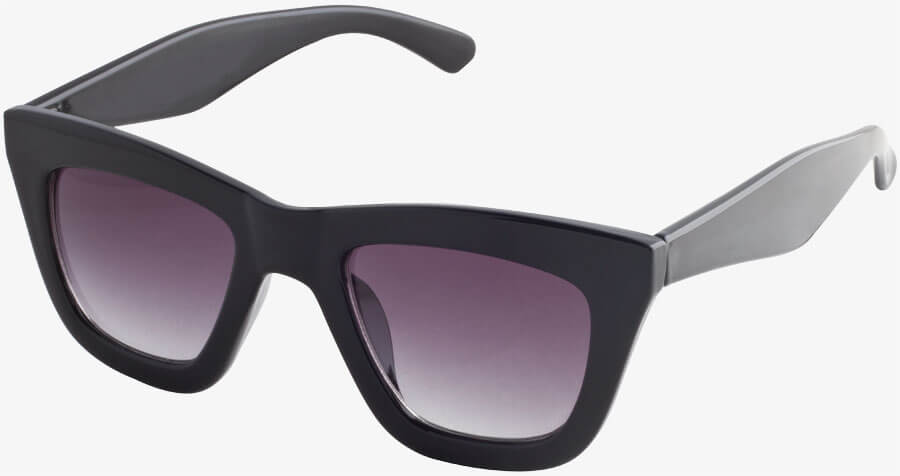 I will say that it has been an adjustment for me, being able to see my eyes through the light purple lenses, but contrary to what I initially believed, this has not been a deal breaker. Although I do still love my dark lenses, somehow these lighter lenses just work in these frames.
One thing that I have noticed is that, because of the slight wing-y shape of the frames, I can't wear a baseball cap with them. The tops of the frames push up on the brim of the hat, which in turn causes the hat to not stay securely on my head. This is a minor annoyance, and one that most people probably won't encounter, but on really sunny days I find it important to incorporate both sunglasses, and a hat (as well as sunscreen) to shield myself from those harsh rays. Along those lines, all of ICU Eyewear's sunglasses have 100% UVA and UVB protection.
The price of these sunglasses is more than reasonable. At around 20-25$ a pair, it really is a great buy. The plastic is sturdy and the frames rest evenly on my face (I've had my fair share of lopsided sunglasses, surprisingly enough).
The best part about ICU's products, though, is that they're eco friendly. ICU has gone above and beyond to ensure their Eco Eyewear products are carbon neutral, and made of materials that are fully recyclable. Additionally, some styles are made with recycled materials that would otherwise end up in a landfill, and still others have been made with renewable materials like bamboo. I think it's important to point out that not all of their designs make these claims, so if you're ordering online, make sure your frames have the sustainability seals on them if that is something that is important to you.
Overall, these sunglasses have been great. They seem sturdy and look great on, and the price is enough to excite anyone. That the company is environmentally aware is an added bonus that helps the consumer feel better about their purchase.
Although the price is right, and the style is adorable, I would still like to see slightly darker lenses, and I think the company should look into expanding their sustainability practices to all of its styles. Until that is accomplished, I will give these sunglasses 3 out of 5 stars.