Despite living in the Pacific NorthWet –excuse me, NorthWest– my skin gets inanely dry.
So when I find a product that can turn my scales into like, real human skin, I have to share. I recently had the chance to try some Bee Magic products from Medicine Mama Apothecary and within a week of using their Sweet Bee Magic All-In-One Skin Cream, my skin's become smooth, supple and bee-autiful! I'm officially under the spell.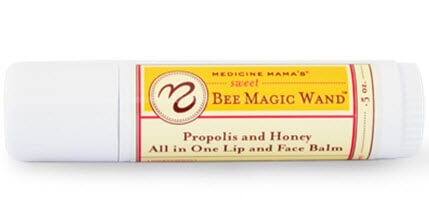 Bee Magic products are handcrafted to mimic the moves made by bee colonies to nourish their Queen and keep their hive healthy, and are powered by propolis and honey—which means they're not only richly nourishing but have anti-bacterial properties too. Propolis destroys bacteria while it regulates the skin's own metabolism, which effectively encourages your body's immune system to ward off microbes that can damage your skin.
Another ingredient in the magic mix is honey and the buzz is, when you blend honey with the right oils the right way, it becomes a natural anti-septic—on top of producing a natural alpha hydroxyl acid that fights wrinkles. Beeswax acts like a light but fierce coating to lock in all that good stuff; what a gift from our favourite friends in stripes!
Best of all? The formula comes in a travel-size stick called Sweet Bee Magic Wand too, which works in a pinch for lips or to add a dewy glow to cheeks.
Bee Magic creams are great for everyday use, for soothing burns or healing scars, or minimizing stretch marks—and they're all safe for baby.
Find your Medicine Mama products at Whole Foods, online at medicinemamasapothecary.com and on Facebook.