The days keep getting shorter, but the local fall produce will keep providing us with bounty. There are still loads of vegetables that prosper through the fall, including greens, onions, peppers, turnips, and – of course – pumpkins.
However, this dish highlights beautiful delicata squash, potatoes and large green scallions. All of them are seasonal, and create a meal that's incredibly delicious. Regional bacon, spinach and cheese are also included in these squash boats filled with flavor.
So, when the urge strikes for a fire in the fireplace, make this as a side dish (or a main course along with a bowl of soup) to help take the chill out of the autumn air.
Also, because squash is loaded with Vitamin A and Vitamin C, you'll be doing your body a favor too.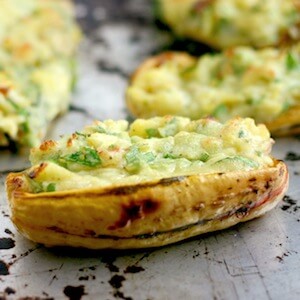 Yield: 4 servings
Twice Baked Delicata Squash
Prep Time: 15 minutes

Cook Time: 1 hour 15 minutes

Passive Time: 1 hour 15 minutes

Total Time: 2 hours 45 minutes
Ingredients
4 delicata squash
1 tablespoon olive oil
kosher salt, to taste
freshly ground black pepper, to taste
1 large russet potato, peeled and cut into 1-inch pieces
3 tablespoons milk
2 tablespoons unsalted butter or Earth Balance
3 scallions, roughly chopped, white and green parts
1/2 cup fresh spinach, roughly chopped
1/2 cup sharp cheddar cheese, shredded
2 pieces cooked bacon, crumbled
Instructions
Preheat oven to 375 degrees. Wash the squash well and slice in half. Use a small spoon to remove the seeds. Place the squash in a baking pan cut side up. Drizzle with olive oil and season with salt and pepper. Bake for 20 minutes, or until fork tender. Let cool.
While the squash is baking, place the potatoes in a medium saucepan. Cover them with water and bring to a boil over medium heat. Cook until fork tender, about 20-25 minutes. Drain and mash with milk and butter. Season to taste with salt and pepper. Add the scallions, spinach, cheese and bacon. Remove the squash from the skin and add to the potato mixture. Stir well. Divide the potato/squash mixture into the squash shells and bake for 20 minutes, or until cheese is golden brown.
Serve immediately.
Nutrition Information
Yield
4
Serving Size
1
Amount Per Serving Calories 409Total Fat 25gSaturated Fat 11gTrans Fat 1gUnsaturated Fat 11gCholesterol 50mgSodium 472mgCarbohydrates 37gFiber 8gSugar 8gProtein 13g