I created this recipe for a friend of mine who is on a pseudo-paleo cleanse; fresh vegetables, fruits, organic meats, and a select group of whole grains have become her ingredient repertoire when cooking.
However, this does not restrict the flavors she can enjoy.
This recipe illustrates this, with the creamy sweetness of yam complementing the nuttiness of the brown rice and the small pockets of flavor created by the cilantro.
Serve with a dollop of sour cream, veganaise, or whipped soft tofu for added texture and creaminess.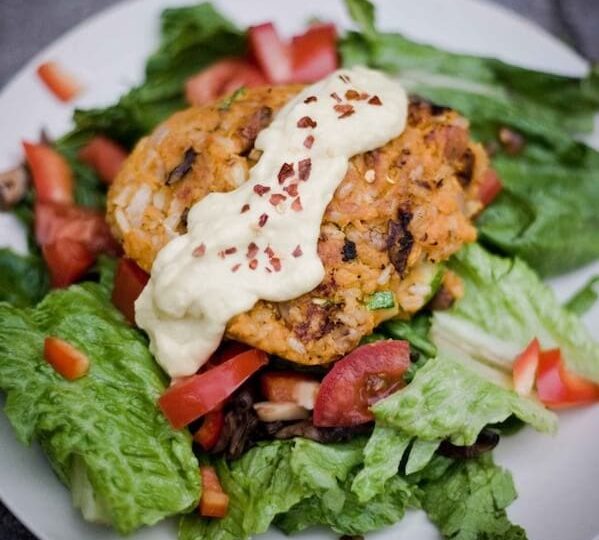 Yield: 4 servings
Sweet Potato and Brown Rice Patties
Prep Time: 15 minutes

Cook Time: 15 minutes

Total Time: 30 minutes

The creamy sweetness of yam complements the nuttiness of brown rice in these vegan patties, with small pockets of flavor created by the cilantro
Ingredients
1 tbsp olive oil
1 onion, diced
1 tsp cumin
1/2 tsp tumeric
1 pinch red pepper flakes
1/2 tsp coriander powder
1/2 tsp stevia
2 cups brown rice, cooked
2 large yams, cooked and mashed
1/2 tsp salt
1/2 lemon, juiced and zested
1/4 cup fresh cilantro, optional
oil for cooking
Instructions
Toss the onion in the olive oil in a large frying pan. Cook on medium-high heat until browned and caramelized. Add the cumin, tumeric, red pepper flakes, and coriander powder and cook for another 30 seconds until fragrant. Remove from heat.
Combine the yams, brown rice, salt, and lemon in a large bowl. Add the onion and mix until thoroughly combined.
Heat a thin layer of oil in the frying pan on medium-high heat. Divide the yam mixture in to six and pat them in to oval shapes, 1/4-inch thick. Place them, 1-inch apart, on the frying pan. Cook for 3 to 5 minutes on each side, or until browned. Remove and serve over greens or on rice bread.
Nutrition Information
Yield
4
Serving Size
1
Amount Per Serving Calories 265Total Fat 8gSaturated Fat 1gTrans Fat 0gUnsaturated Fat 7gCholesterol 0mgSodium 299mgCarbohydrates 46gFiber 5gSugar 2gProtein 4g