When it's pumpkin season, don't just buy little pumpkins for decorations – a small pumpkin is the perfect size to roast and combine with ricotta as filling for ravioli.
Also, even though pasta has a reputation as being time consuming and difficult, it really doesn't take that much time, especially if you have a food processor.
And if you can multi-task a little bit, you can have the whole meal completed from start to finish in about an hour – without any store-bought packaging going into the trash.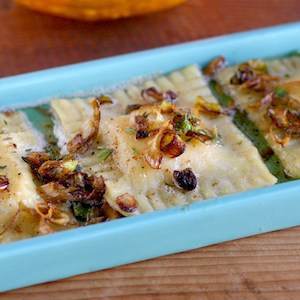 Yield:

4 servings
Pumpkin Ravioli with Thyme Brown Butter and Crunchy Scallions
Total Time:
1 hour
15 minutes
Ingredients
Pasta Ingredients
2 cups unbleached all-purpose flour
1/2 teaspoon kosher salt
3 organic eggs, large
water, optional
Thyme Brown Butter Sauce
1 tablespoon fresh thyme leaves
4 scallions, white parts only
1 stick unsalted butter, divided
Filling Ingredients
1 pumpkin, small; 4 to 5 inches diameter
olive oil
kosher salt, to taste
freshly ground black pepper, to taste
1 cup low-fat ricotta
1 teaspoon lemon juice
4 scallions, white parts only
1 tablespoon fresh thyme leaves
Instructions
In a food processor fitted with a metal blade, pulse together the flour and salt. Add the eggs and pulse together 7-8 times or until a ball forms. If the pasta doesn't want to form a ball and is still grainy, add a teaspoon of water and pulse again. Repeat until ball forms. Knead the dough on a work surface a few times until it forms a smooth ball. If it's a little too wet, add a teaspoon of flour. Wrap the dough in a ball and let sit for 30 minutes.
While the dough is resting, slice the pumpkin in half, and remove the seeds with a small spoon. Place the pumpkin halves in a small baking pan and drizzle with olive oil, seasoning with kosher salt and black pepper. Bake for 30 minutes, or until the flesh of the pumpkin is easily pierced with a fork. Let the pumpkin sit for a few minutes to cool. When the pumpkin has cooled enough to handle, remove the flesh of the pumpkin with a spoon and combine with the ricotta.
Divide the dough in half, and re-wrap one of the halves in plastic wrap. Lightly dust work your surface with flour. Roll the dough out with a rolling pin until it's approximately 1/8-inch thick. Repeat with the second half of dough. Spoon a tablespoon of pumpkin filling onto one sheet of dough. Repeat along a straight line, with each tablespoon about 1½ inches apart. When you come to the end of the dough, start a second row of filling. (You should have about 16 pieces of filling between the two rows.) Cover the dough and filling with the second piece of dough and gently push down around each piece of filling. Slice the ravioli into squares and trim off any overhang.
Fill a small bowl with water, and dip a fork into it. Gently press down on all four sides of each piece of ravioli.
Place the ravioli on a cookie sheet and put the sheet in the freezer for about 10-15 minutes, while bringing a large pot of water to a boil.
Remove the ravioli from the freezer and gently drop in 3 to 4 ravioli at a time. Gently stir with a slotted spoon to keep ravioli from touching. When the ravioli bob to the surface of the water, remove them with a slotted spoon and place on paper towels to drain for 1 minute, and then set aside on a plate. Repeat until all ravioli are cooked.
In a large frying pan, melt 1 tablespoon of butter. Add the scallions and cook until soft over medium heat, about 2 minutes. Add the rest of the butter and cook until the butter becomes foamy and then brown, about 1½ to 2 minutes. Add the thyme and stir well. Pour over ravioli and serve immediately.
Notes
  Originally published October, 2013.
Nutrition Information
Yield
4
Serving Size
1
Amount Per Serving
Calories

623
Total Fat

35g
Saturated Fat

19g
Trans Fat

0g
Unsaturated Fat

14g
Cholesterol

219mg
Sodium

537mg
Carbohydrates

57g
Fiber

3g
Sugar

3g
Protein

20g