While travelling to Central America, I began to appreciate the beautiful texture and flavor of the yucca root.
Also called cassava, tapioca or manioc, this is one of the staple tubers of the world, so becoming acquainted with a simple means of cooking it not only makes you a better cook, but broadens your flavor horizons.
This is one of the easiest yucca recipes, and is based on a dish served to me in a Nicaraguan home.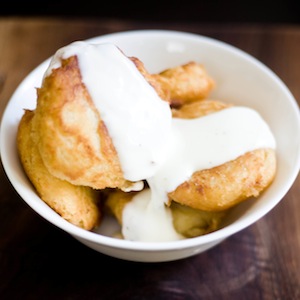 Yield:

4 servings
Pan-Fried Yucca with Creamy Vegan Drizzle
This easy yucca recipe highlights the beautiful texture and flavor of the yucca root. Also called cassava, tapioca or manioc, yucca is a staple tuber of the world.
Ingredients
Fried Yucca
2 cups yucca root, peeled and cubed
6 cloves garlic
2 tbsp flour
salt
Vegetable oil
Creamy Vegan Drizzle
1/2 block soft tofu
1 tsp black pepper, coarse ground
1 tsp basil, dried
1 tsp oregano, dried
1/2 lemon, juiced and zested
1 tsp sugar
1 tsp balsamic vinegar
Instructions
Simmer the yucca root with the garlic cloves in a large pot of boiling water with several generous pinches of salt. Cook for 10 minutes or until the pieces are easily pierced with a fork. Drain off the water and mash the yucca with the soft garlic and flour until smooth.
Heat the oil, 1-inch deep, on high in a deep-bottomed frying pan, until a drop of water flicked in sizzles. Create small golf ball sized pieces from the yucca root mixture, and press them into rounds ½-inch thick.
Fry the yucca pieces for 2-3 minutes on each side, until golden brown. Remove and let drain on paper towel.
Meanwhile, blend the tofu, black pepper, basil, oregano, lemon, sugar and balsamic together until smooth. Salt to taste.
Serve the yucca with tofu drizzled on top.
Nutrition Information
Yield
4
Serving Size
1
Amount Per Serving
Calories

272
Total Fat

7g
Saturated Fat

1g
Trans Fat

0g
Unsaturated Fat

5g
Cholesterol

0mg
Sodium

163mg
Carbohydrates

47g
Fiber

3g
Sugar

4g
Protein

8g