Light, vegetable filled meals are the best in August, when there is such an abundance of local, fresh vegetables available. If you eat fish, it is a wonderful option for dinner, as it is a a great source of protein that is easier for the body to digest than heavy meats. Moroccan seasoning is bursting with flavour and great for summer nights.
We recommend making educated choices about the seafood that you consume. There are many resources out there that provide rating and information about the best types of fish to consume.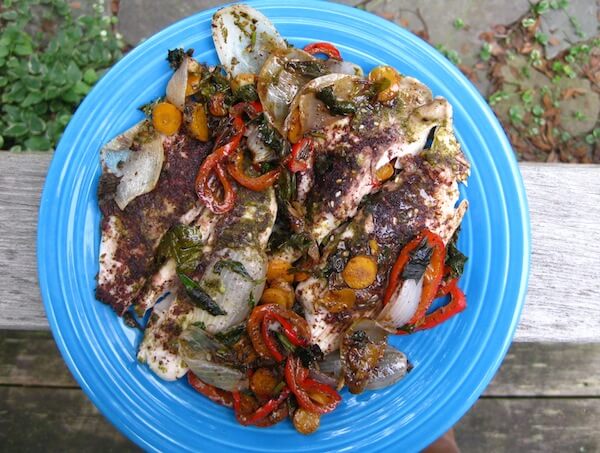 Yield:

4
Moroccan White Fish
Ingredients
2 fillets white fish, sustainably caught, see Seafood Eco Ratings
1 small onion, chopped
2 cloves garlic, chopped
1/2 cup red pepper, chopped thinly
1/3 cup carrots, chopped thinly
1/3 cup fresh parsley or cilantro, chopped
1/3 cup fresh basil, chopped
3 tsp ghee, clarified butter, or organic butter
1/2 lemon, juiced
2 tsp honey
2 tsp zatar, (if you don't have zatar you can use dried oregano, thyme, sumac and sesame seeds)
1/8 tsp sea salt
black pepper to taste
Instructions
Saute the onions and garlic with ghee or butter in a pan for 5-10 minutes, until the onions are softened and begin to turn translucent.
Add the red pepper and carrots, cooking for a few more minutes.
Place the fresh herbs on top of the vegetables.
Place the filets of fish over top.
Squeeze the lemon juice over the fish and drizzle the honey over. Sprinkle the zatar, sea salt and pepper over top.
Cover the pan with a lid and allow to cook for 5-10 minutes, until fish is soft.