I don't throw words around like "best" very often but, seriously, this is the best salad ever. I'm also convinced that the energy from the lentils and spices kept me going over a few 13-hour workdays.
Not too shabby, little salad. Not too shabby.
Everyone knows lentils are good for you, but normally I just use them when I want to get filled up in a hurry. But then last week I realized I had taken on a nearly impossible amount of work, and I completely gave up on nutrition. For the first time in three years, I asked my husband to grab us boxed mac and cheese and frozen pizzas from the store. I just couldn't get into the kitchen. Nothing horrible happened – our hearts didn't explode from salt and chemicals, and we had a couple of passable "meals." But then I realized that I was craving lentils – badly. So I put this salad together and, wow, not only was I full for hours, I felt as fresh at 10 p.m. as I did when I first started working at 9 a.m.
What?
I don't know if it was because I'd been eating junk food, or just because the lentils and spices gave me some serious energy – but this salad has become my go-to for lunch everyday.
I'm in love.
Hopefully you have the spices around to make your own 5-Spice powder, because it's much more delicious than what you get in a bottle. It's only through serious self-restraint that I've kept from putting it on everything in the kitchen.
Also, if you can get your hands on locally grown purple carrots, they make the salad even more beautiful.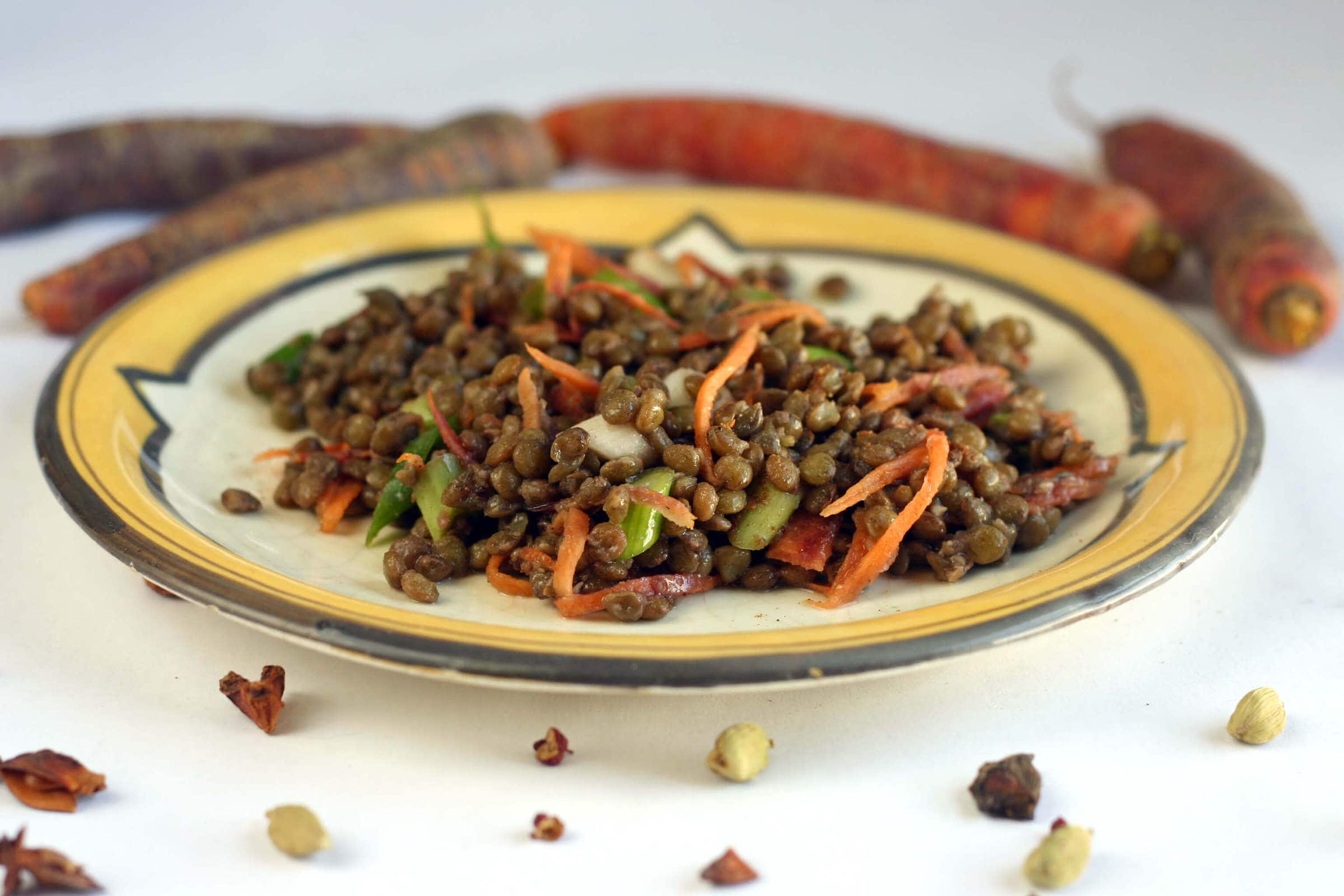 Yield:

4 servings
Lentil Salad with Chinese 5-Spice
Ingredients
5 Spice Powder
1 tablespoon fennel seeds
10 "points" star anise
5 cardamom pods
3 teaspoons Szechuan peppercorns
3 1/2 teaspoons ground cinnamon
1/2 teaspoon ground cloves
1/2 teaspoon kosher salt
Salad
2 1/2 cups French green lentils
6 cups low-sodium chicken or vegetable broth
1/2 teaspoon kosher salt, divided
1/2 teaspoon freshly ground black pepper
3 scallions, roughly chopped
2 small carrots, shredded
Spice Vinaigrette
1 1/2 tablespoons olive oil
2 teaspoons 5-spice powder
1 teaspoon rice vinegar
1/2 teaspoon kosher salt
1/2 teaspoon freshly ground black pepper
Instructions
5 Spice Powder
You can store the 5-Spice in an airtight container for up to 6 months – that is, if you can make it last that long.
Salad
Drain in rinse in a colander under cold water. Pour the lentils into a medium bowl and stir in the scallions and carrots. Whisk together the vinaigrette ingredients, and dress the lentils.
Notes
Calories per serving: 542 Fat per serving: 8.7g
Nutrition Information
Yield
4
Serving Size
1
Amount Per Serving
Calories

358
Total Fat

7g
Saturated Fat

1g
Trans Fat

0g
Unsaturated Fat

5g
Cholesterol

53mg
Sodium

1919mg
Carbohydrates

38g
Fiber

14g
Sugar

8g
Protein

39g