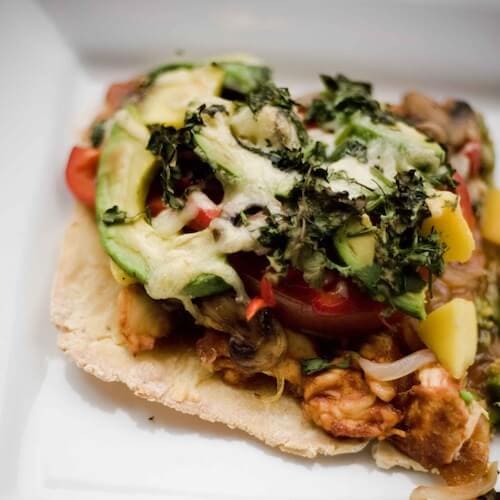 This pizza uses the flavors and textures of its fresh ingredients to create an unusual pizza.
The homemade barbecue sauce utilizes a tomato base to tie together both savory and sweet elements, with the creaminess of the avocado mellowing it out.
Serve the pizza piping hot, or cold the next day for a delicious lunch. The toppings can be varied as desired, with more added for a heartier pizza or several removed for a simplistically elegant one.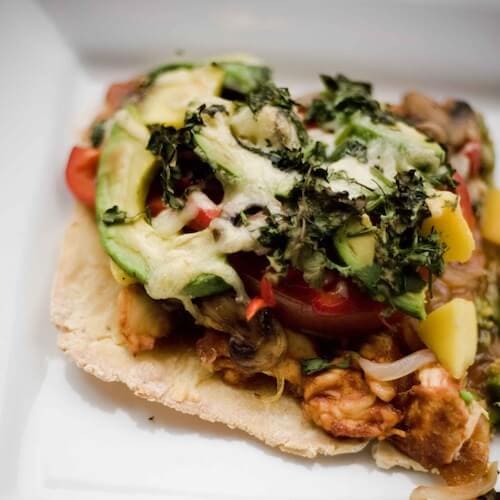 Yield: 4 servings
Gluten-Free Barbecue Chicken Pizza Recipe
Prep Time: 15 minutes

Cook Time: 1 hour 10 minutes

Total Time: 1 hour 25 minutes
Ingredients
2 free-range chicken breasts, cut into bite-sized chunks
1 large gluten-free flatbread
1 can pureed tomatoes
Barbecue Sauce
1 cup packed brown sugar
1 cup apple cider vinegar
1/2 tsp salt, plus more to taste if desired
1 orange, zested and juiced
1 onion, finely minced
2 cloves garlic, minced
1 tsp oregano
1 tsp ground black pepper
1/2 tsp red pepper flakes
1 tsp cumin
1 tsp chili powder
1/2 red onion, thinly sliced
1 mango, peeled and chopped
Toppings
1 red pepper, sliced
1 cup mushrooms, sliced
1 avocado, thinly sliced
1/2 cup soy mozzarella, shredded
1/4 cup fresh cilantro, chopped (optional)
Instructions
Combine all the ingredients for the barbecue sauce in a medium saucepan on the stove at medium-high heat. Simmer until reduced by half and thick in consistency, about 30 to 45 minutes.
Preheat the oven to 400 degrees Fahrenheit. Remove half of the barbecue sauce to a bowl. Add the chicken chunks to the remaining sauce in the saucepan. Simmer for 8 to 10 minutes, until the sauce is extremely thick and the chicken is cooked through.
Set the flatbread on a large baking sheet. Spread the chicken and sauce mixture over it. Add the rest of the toppings, in the order you desire, finishing with the mozzarella and then the cilantro, if desired.
Insert the pizza in to the oven. Bake for 10 to 15 minutes, or until the cheese has melted and is slightly browned. Serve with the remaining barbecue sauce for drizzling, if desired.
Nutrition Information
Yield
4
Serving Size
1
Amount Per Serving Calories 465Total Fat 11gSaturated Fat 3gTrans Fat 0gUnsaturated Fat 7gCholesterol 11mgSodium 527mgCarbohydrates 86gFiber 8gSugar 62gProtein 10g