Dal is a term commonly used in Asian cuisine to refer to both split pulses (lentils, peas, and beans) and dishes made from them. The word daal comes from the Sanskrit word dhalī, which means "split."
It's a staple food in many parts of the world, but it is especially popular in India, Pakistan, and Bangladesh. There are many different types of dal, each with its own unique flavor and texture.
Some of the most common types of dal include:
Toor dal: This is a type of split pigeon pea that is often used in dal makhani, a rich and creamy lentil stew.
Moong dal: This type of split mung bean is often used in dal tadka, a lentil stew with a tempering of spices.
Masoor dal: This type of split red lentil is often used in dal bhaat, a lentil and rice dish.
Urad dal: This type of split black lentil is often used in idli and dosa, two types of South Indian savory pancakes.
Health Benefits
Daal can be cooked in a variety of ways, but it is most commonly cooked in a pressure cooker. Daal can be served as a main dish, a side dish, or a soup. It can also be used to make hummus, a Middle Eastern dip made from mashed chickpeas.
Daal is a nutritious food that is a good protein, fiber, and iron source. It is also a relatively inexpensive food, which makes it a popular choice for people on a budget.
Here are some of its health benefits:
High in protein: Dal is a good source of protein, which is essential for building and repairing muscle tissue.
High in fiber: It's a good source of fiber, which can help you feel full and satisfied after eating. Fiber can also help to regulate digestion and prevent constipation.
Good source of iron: Dal is also a good source of iron, which is essential for carrying oxygen throughout the body.
Low in calories: Dal is a low-calorie food, making it a good choice for people trying to lose or maintain a healthy weight.
This delicious stew-like dish is not only delicious but filled with protein.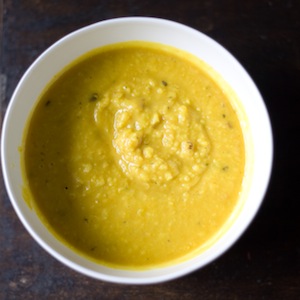 Yield:

4
Bangladeshi Daal Recipe
Daal is a staple in South East Asia, perfect for drizzling over rice, being scooped up by naan, or accompanied by fresh sliced cucumbers and red onions. This delicious stew-like dish not only is delicious, but filled with protein.
Ingredients
1 onion, chopped
1 head garlic, minced
2 tbsp vegetable oil
3 cups vegetable stock
2 birdseye chilies, chopped
1 cup lentils
2 tomatoes, finely chopped
1/2 tsp turmeric
1/2 tsp coriander
1 tsp cumin
salt, to taste
Instructions
Sauté the onion and garlic in the vegetable oil in a frying pan set to medium-high heat until browned, between 3 to 5 minutes.
Add the vegetable stock to the hot pan, followed by the rest of the ingredients except for the salt.
Bring the mixture to a boil then reduce to medium, simmering the mixture for 15 to 20 minutes.
Turn the heat to medium-high and cook the daal for 5 to 7 minutes until it becomes more of a homogenous mixture and thickens.
Nutrition Information
Yield
4
Serving Size
1
Amount Per Serving
Calories

173
Total Fat

8g
Saturated Fat

1g
Trans Fat

0g
Unsaturated Fat

6g
Cholesterol

0mg
Sodium

654mg
Carbohydrates

22g
Fiber

6g
Sugar

6g
Protein

7g
[recipe]