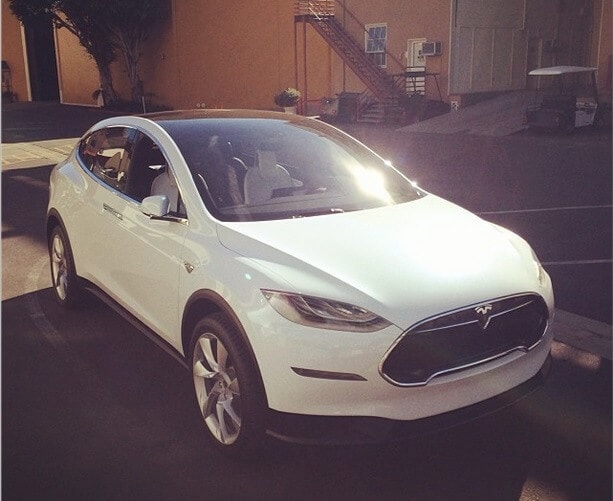 When looking at luxury all electric vehicles, Tesla Motors in California appears to have the entire market to themselves. Since the start of production for the Model S in 2012, Tesla has sold around 50,000 of these premium EV's. These figures prove that there is in fact a demand for high-end electric vehicles among the upper class. Tesla's next move is to start production of their newest masterpiece called the Model X.
No engine, no cry
I'm sure everyone has seen crossover SUVs that offer three-row seating, power under the hood and attractive looks but Tesla's Model X has a secret advantage. Without having to worry about things like a gas tank, muffler or other cumbersome parts, Tesla has been able to capitalize and convert this into more interior space and stowage. As a result, this electric crossover can not only seat 7 but also hold all of their luggage in the trunk and/or "frunk". Additionally, folding down all the back seats will provide you with enough space to fit a queen-sized bed laying flat. This translates to it being able to fit bicycles, surfboards or pretty much anything else you need to haul around town.
Familiar Style with a twist
Glancing at the front of the vehicle, it wears the same face and similar lines as the Model S but when you open the "Falcon Wing" doors, it takes on a style of its own.  These doors are quite similar to the famous gull-wing doors we know from Mercedes or an old DeLorean but Tesla's design incorporates a second hinge half way up the door to create a slight roof over the open space. Having this second hinge allows you to actually stand up while still inside the vehicle while providing shelter from rain or adverse weather over your head. Being able to stand inside the car will instantly appeal to families that use car seats for their children as the increase in space makes it much easier to get them in and out.
Don't forget about the power
You would normally assume that having all this space and neat styling for an electric vehicle would take away from its performance but it is completely the opposite in this case. The Porsche 911 does 0-60 in 4.6 seconds. The Model X can do it in 4.4 seconds. Need I say more? The Model X utilizes two electric engines (one for each axle) that distribute power to all four wheels making it the first all electric car on the market to have real all wheel drive. All this power will be available in two different lithium ion battery options.
60 kWh with a range of 210mi/340km
Or…
85 kWh with a range of 270mi/430km
With the base model of 60kWh, this is already an impressive feat but the alternative 85kWh option is a total game changer in the world of no-emission vehicles. The price of these new models has yet to be released by Tesla but you can reserve one for yourself by leaving a $5,000 deposit with Tesla at their website. Production begins late this year at the Tesla Motors factory in Fremont, California.
Additional Sources