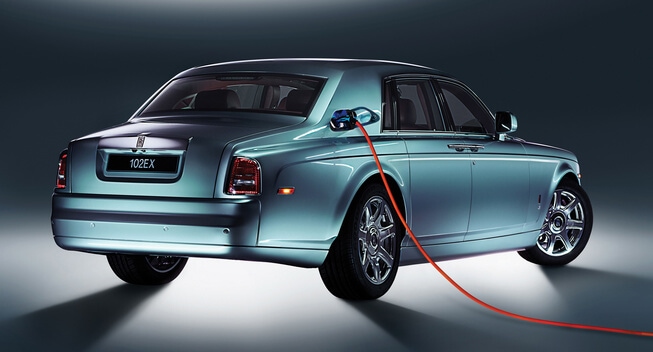 Rolls Royce's (RR) parent company BMW is continuing to move the Lux-brand forward in the 21st Century; first with an ultimately still-born 102EX electric initiative three years ago, and now, another effort focused on the premise of developing and offering a future PHEV product. Granted, issues associated with translating the transportation value of an enormous ICE into a lean, green, luxury machine, will offer more than a simple series of challenges. Nevertheless, if there's any manufacturing partnership that can resolve a 'nimble – big = environmentally responsible' formula; it's got to be the engineers at Munich, in concert with their British collaborators at Goodwood.
Of course, green or not, RR products will continue to represent the ultimate in uber-wealthy, four-wheeled transportation; so it's not likely that anyone is going to see much vinyl or plastic utilized when it comes to creating an initial PHEV version. Currently, neither BMW nor Royce will offer a hint of which flagship variant is likely to get the first hybrid application.
However, either the RR Phantom or Ghost should easily accommodate one of BMW's PHEV powertrains, since Munich has already suggested that central components will come from its X5 or sedan eDrive design inventory. In either case, BMW's current technology mix typically offers Twin-Power Turbo ICEs, mated to either 70 kW (70 hp), or 125 kW (170 hp) electric motors, while current power packages are further enhanced by all-wheel drive.
Again, though, whether the powertrain is hybrid or not, Lux amenities will appear by the bushel-load, particularly since both the current Phantom and Ghost mount miles of leather, pounds of hand-finished burled woods, and gallons of varnished sealant as standard options. In all instances, therefore, dealing with power-to-weight ratios, while producing reasonable performance numbers with either electric power option will offer a considerable set of challenges.
Nonetheless, in the end of the day, we are talking about Rolls Royce, after all; where development money will offer no objection. So, all in all, the development of RR's first PHEV offering should offer a lot of fun to watch, along with providing some intriguing technological puzzles to resolve.