Who says that pure fun and sustainability can't exist at the same time? Well it can, as clearly illustrated by the 2014 Morgan three-wheeler since the recent remarque of the venerable classic offers historic styling, 30 MPG range, and loads of fun to boot.
In the early 1900's, English engineer Harry (HFS) Morgan decided to try his hand at building an inexpensive enclosed body vehicle he ended up calling the 'Cyclecar', since his creation mated a single rear wheeled, chain-drive motorcycle engine with a two-gear manual transmission and 'standard' two-wheel front-end, to create what we now refer to as a tadpole vehicle configuration. The car was so light and efficient that between 1910 and the opening of WW1 Morgan's vehicle garnered 10 English World Records for speed, and 24 Gold Medals for efficiency and dependability.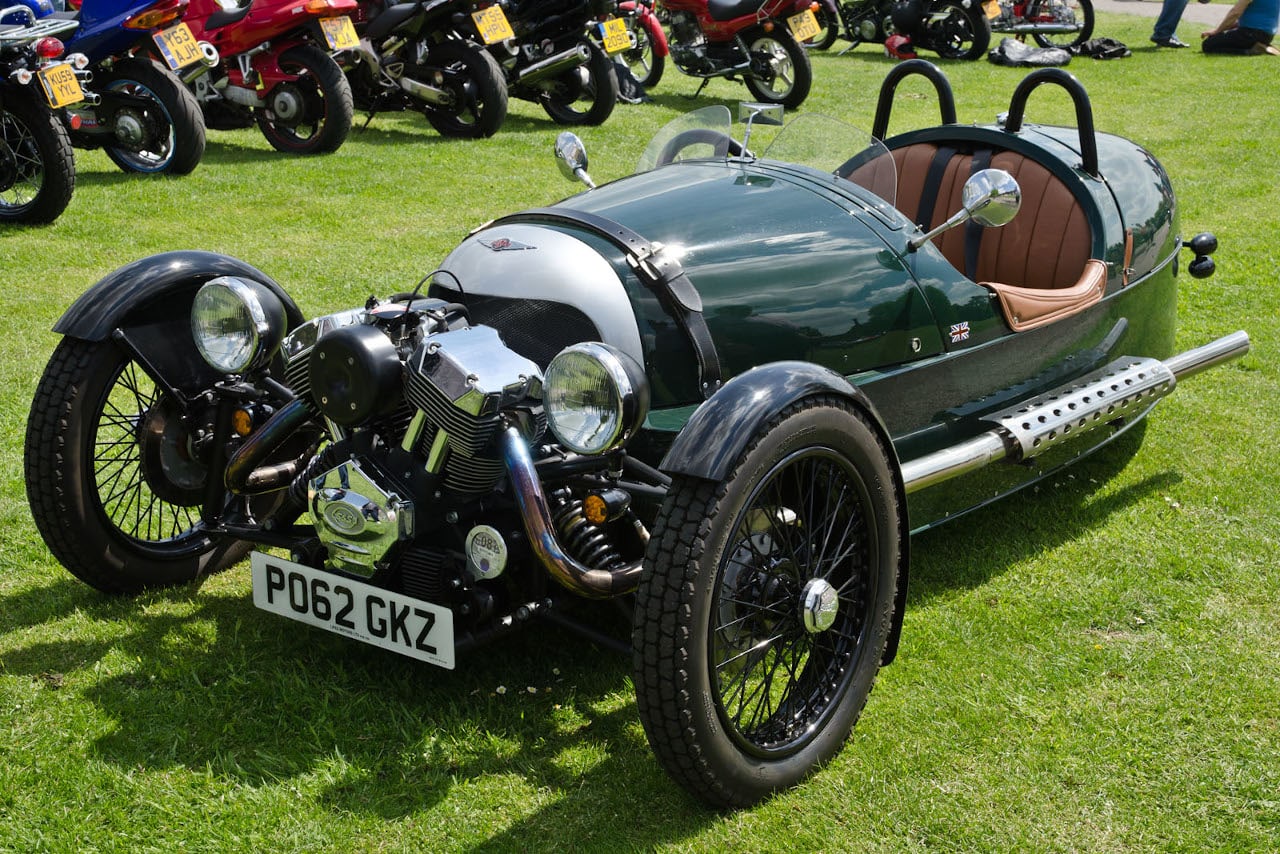 Once the war was over, Morgan went back to building three-wheelers, until the outbreak of WW2, and afterward got into four-wheel car designs; ultimately leading to a historic variant referred to as the Morgan 4 by 4. Nevertheless, however, the production of the original twin-cylinder Morgan 3 continued apace until the last car rolled off the company's manufacturing line at Malvern Link in 1953.
Now, however, the Morgan Motorcar marque is back on the road, and the Morgan tadpole is making a serious comeback, only this time, although the vehicle is still being built in England, the product is getting help, support and promotion from an American dealer operator at Morgantown West Virginia.
According to Morgan Motorcars,
"The Morgan 3 Wheeler is designed to bring the fun and passion back to personal transport. The iconic design of the Morgan 3 Wheeler has been updated with 21st Century Technology, but retains the pronounced aluminum bullet hull that the 3 Wheeler is known for. Above all, the Morgan 3 Wheeler is designed for one purpose alone…to make driving fun."
Specs and amenities for the tadpole are impressive, and even though the design is over 100 years old, who cares, it still works just fine To whit:
Tech
Engine: S&S 120 cubic in. "V Twin"
Gearbox: 5 speed + reverse
Top Speed: 115mph
0-60:6.0 seconds
Power:118hp, 100 ft lb of torque
Fuel tank: 7 gallons (29.9 MPG Highway)
Amenities
Aluminum body work
US and EU approved
Gloss black wheel arches and lamps, gloss black wire wheels, polished exhausts w/heat shield, nickel colored cowl, Le Mans filter cap, gloss black roll hoops, twin fly screens, exposed tubular
Black steel chassis
Leather seats, dash and elbow pads
Leather and alloy steering wheel
Black anodized dash panel with Aluminum aircraft-quality toggle switches
Body color interior trim panels
On board digital display
So if you fancy an updated piece of history, and more fun that you can shake a stick at, check out the Morgan 3. To learn more please visit, Morgan Motorcars.