The LA Auto Show was held from November 18 – 27 this year, and it featured a handful of new eco-friendly vehicles, including hybrids, clean diesels, alternative fuel vehicles, and electric cars. While most of the vehicles featured were more 'evolutionary' than 'revolutionary', the electric cars that were on display give green drivers something to look forward to.
BMW i3 & i8 Concept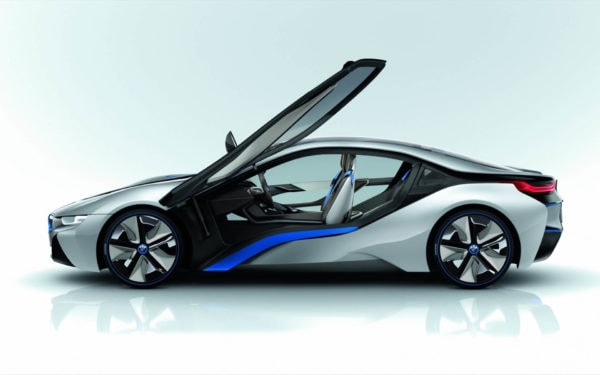 BMW is preparing to release two electric vehicles by 2014 (the i3 SUV and i8 sports car). The best part of the new green vehicles are:
The vehicles are built with carbon fiber-reinforced plastic to make them much lighter than traditional cars or SUvs
The i3 SUV will have a range of 80-100 miles per charge, with an optional "range extender" to add an additional 80-100 miles (and essentially turning the all-electric car into a hybrid)
The i8 Sports Car will get 20-30 miles from the electric battery, and around 170-180 miles from the gas powered motor
Check out a video interview with the designer of both vehicles, Richard Kim.
CODA Sedan
CODA is one of the up-and-coming independent electric vehicles producers who will also be selling their new stylish sedans alongside GE's residential-friendly Wattstation Wall Mount electric car chargers.
DOK-ING XD

The DOK-ING XD is a compact electric car (2.8 meters long!) manufactured in Croatia. In addition to being zero emissions, the DOK-ING XD has enough engine power to take it from 0-100 km/hr in 7.7 seconds.
Ford Focus BEV Prototype
The Ford Focus BEV is a prototype electric car, that will be able to drive for 75 miles on a single charge, with each charge requiring  6-8 hrs from a 230 volt outlet. The BEV is projected to reach 85mph from its 23 kWh Lithium-Ion battery.
Mitsubishi i

The Mitsubishi i isn't being released until early 2012, but the electric car gets 112 mph and can be purchased for as low as $21,625, which will make it (when it hits the market) the most affordable EV in America, ahead of the Chevy Volt and  the…
Nissan Leaf

The most anticipated electric car in North America, the Nissan Leaf also has another great use: powering your home. While the same could technically be accomplished with any electric car, the new 'Leaf at Home' program takes V2G (vehicle to grid) but instead uses the car's spare charge created from its solar panels (if it has them) to power your home, allowing your residence to completely bypass the grid. Not bad, for also driving emission free.
Toyota RAV4

Last, but not least, the Toyota RAV4 has been around for a while (and briefly in electric form, from 1997 – 2003), but recently the eco-friendly automaker best known for its Prius line has revamped its RAV4 line in conjunction with Tesla motors, and is introducing a mass-market model of the electric Toyota RAV4 in 2012.