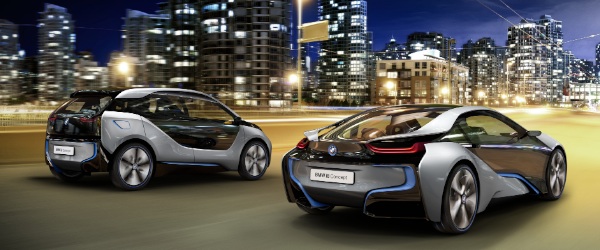 While the Nissan LEAF and Chevrolet Volt are starting to hit the roads in North America, BMW is preparing to release two luxury eco friendly vehicles, the all-electric i3 SUV and the hybrid-electric i8 Sports Car.
To find out more about the awesome new hybrid and electric cars on BMW's roadmap for 2014, TechCrunch met up with the vehicles' designer and discussed what makes these new models better than any of the cars on the road today.
Highlights of the discussion are:
The vehicles are built with carbon fiber-reinforced plastic to make them much lighter than traditional cars or SUvs
The i3 SUV will have a range of 80-100 miles per charge, with an optional "range extender" to add an additional 80-100 miles (and essentially turning the all-electric car into a hybrid)
The i8 Sports Car will get 20-30 miles from the electric battery, and around 170-180 miles from the gas powered motor
Check out TechCrunch's interview with Richard Kim, the designer of the i3 SUV and i8 Sports Car.