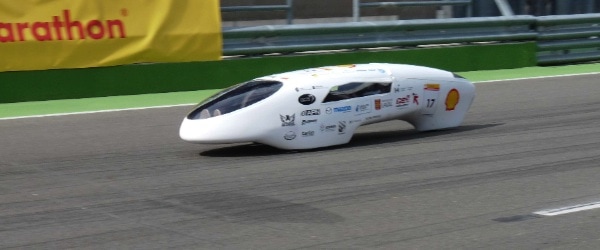 The SAE International Supermileage Contest starts this morning in Marshall, Michigan, and will showcase the best in eco friendly cars, with some vehicles achieving over 2,000 mpg.
The contest, hosted by Eaton Corporation this Thursday and Friday, will see 30 teams competing to build the most eco friendly and fuel efficient 1 person car, built on a four-cycle engine donated by Briggs & Stratton.
When the vehicles are completed, they will drive a 9.6 mile course, and whichever vehicle achieves the highest fuel efficiency and mpg rating wins. Last year's winning car had fuel economy of 2,340 mpg.
If you're in the area of Marshall, Michigan either today or tomorrow, be sure to check out the fuel efficient eco friendly cars in the SAE International Supermileage Contest at the Eaton Corporation Marshall Proving Grounds. The event schedule can be found below.
Thursday, June 9

10 a.m. – Technical inspection opens in truck garage

1 p.m. – Track opens for practice for vehicles approved through technical inspection only

4 p.m. – Track closes for practice

4:30 p.m. – Technical inspection closes

Friday, June 10

9 a.m. – Vehicle runs begin on track

5 p.m. – Last vehicle run begins