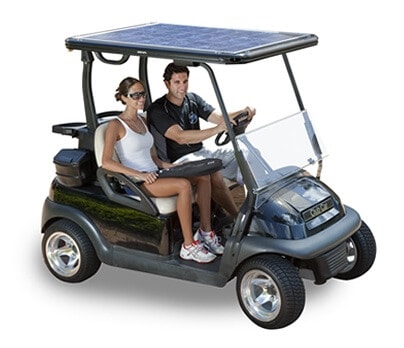 With gas prices remaining steady at well-above what any normal person would be willing to pay, drivers are looking for ways to be more fuel efficient. One way to save at the pump is to invest in a fuel efficient and eco friendly vehicle.
But if you don't want to pick up an electric car like the Nissan Leaf just yet, you may want to consider an electric golf cart, especially now that a custom solar roof can make your ride emissions free and with no recurring costs when you drive it.
SolarCarts & retrofitted solar roofs
A product that formerly would only appeal to owners of golf courses is now appealing to the everyday driver. Electric golf carts are street legal, and provide a safe and eco friendly way to travel relatively short distances. SolarCarts realized this was a great business to be in, and began offering solar roof upgrades which take the electric golf cart from zero emissions, to net zero environmental impact altogether.
If you own a golf car that you'd like to take off the grid, contact SolarCarts and see how your eco friendly vehicle can be even better for the air, and your bottom line.
What they cost
A used electric golf cart usually costs between $2,000 and $7,000 depending on the year and condition (check out Golf Cart City Online for more information on pricing and availability), and SolarCarts is now offering a great summer deal, where your cart can be outfitted with a roof-mounted solar panel for under $1,000.
Combined together, this makes for an affordable and eco friendly mode of transportation. And to anyone that says driving a golf cart instead of a car isn't cool, just remember Van Wilder pulled it off.