Set to release in 2017, the Tesla Model 3 has already created ripples of excitement among electric car advocates. To understand the hype, here are 8 things you need to know about Tesla Model 3.
1. Price
It is Tesla's third generation vehicle and is considered as their least expensive vehicle to date with an entry price of $35,000 USD. The company assured the public that the reduced entry price would not compromise its range or performance.
2. A Spaceship-Like Interior
The company has recently hired the top industrial designer of the Hololens, Microsoft's augmented reality headset. Could he be assisting in the designing of the model's (maybe) augmented reality system? Maybe, given that the company envisioned a "spaceship-like" interior control of the vehicle.
@HBL_Cosmin Wait until you see the real steering controls and system for the 3. It feels like a spaceship.

— Elon Musk (@elonmusk) April 3, 2016
3. Bigger Trunk, New Steering Wheel
The company released updated features which display a bigger trunk opening. A new interior design was also released featuring a new steering wheel, and prototypes of black matte and silver models were shown to the public.
4. Early Reservations
There are already 400,000 reservations on the model and it is still counting. With this staggering amount of reservations, the Vice President of Investor Relations, Jeff Evanson, assured the public that the model will be set to release around second half of 2017. He also revealed that the base version would have 215 miles of range and is equipped with a battery pack smaller than 60 kWh.
5. No Signature Reservations
Unlike the previous models, Tesla would not offer any signature reservations with Tesla 3. Signature reservations enable the user to receive their car sooner than it is released to the market with a special signature design (e.g. being able to choose your own custom colour).
The company decided to ask for only $1,000 deposit and didn't offer signature reservations. However, CEO Elon Musk has stated that early reservations may have something special with their own model; at this point your guess is as good as ours.
6. Improved Energy Density
The Tesla Model 3 is looking to have a 30% improvement in energy density compared to the Model S, as the company is putting effort to increase the energy density of the batteries by working with fewer materials, thus reducing cost.
Tesla CTO JB Straubel explained in detail the improvements made to their battery technology and its impact on the new Model 3. He made a direct link between energy density and cost reduction.
As stated, a higher volume with many raw materials would equate to a higher estimated cost. To solve this issue, the company must use fewer materials which in turn would increase energy density.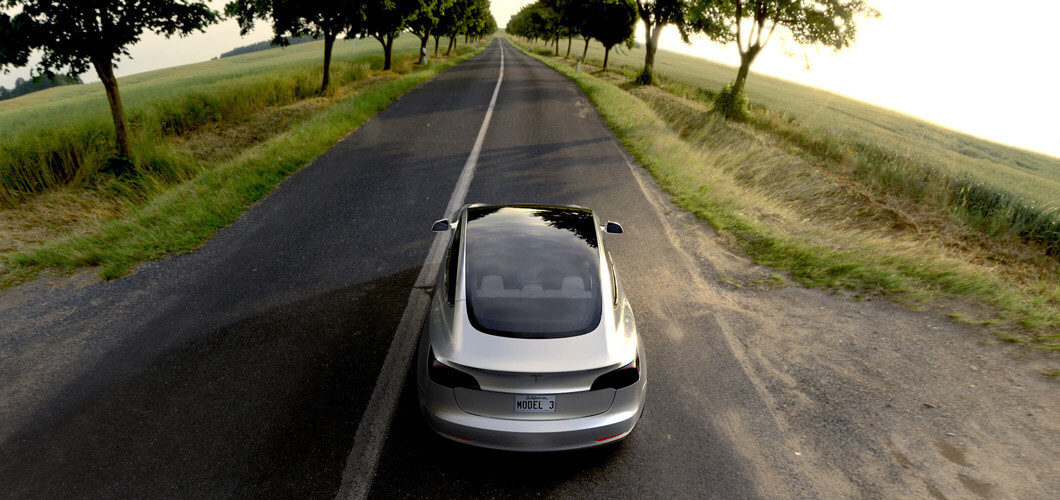 7. New Glass – and Lots of it
The company will be using an all-new type of glass with the Model 3. The new glass was developed by the "Tesla Glass Tech group" which is concentrating solely on – you guessed it – developing new types of glass. In addition to being used in the Model 3, the new glass will also be used on Tesla's solar roof tiles.
Although there are skeptics of Tesla's "solar shingles", due to the previous products that have failed in the solar industry, the company assured the public that the glass technology group is using a range of techniques related to the automotive glass business.
Musk also confirmed that producing glass volume is fairly cheap therefore the use of glass on the car could be extensive – and early model prototypes seem to confirm that.
8. Self-Driving Capabilities
One of the controversial issues circling the Tesla Model 3 is its self-driving capability. Despite accidents that have already happened with other Tesla models (which the company claimed as user error), Tesla pushes for improvements on the software of the Model 3 to better its features.
And its latest Autopilot demos are impressive:
The company claims that all of its vehicles are equipped with the necessary hardware to achieve full autonomy through software updates, which plays into Tesla's long-term goal of developing a network of shared, self-driving cars.
In Tesla's "Master Plan, Part Deux", Musk details:
When true self-driving is approved by regulators, it will mean that you will be able to summon your Tesla from pretty much anywhere. Once it picks you up, you will be able to sleep, read or do anything else enroute to your destination.

You will also be able to add your car to the Tesla shared fleet just by tapping a button on the Tesla phone app and have it generate income for you while you're at work or on vacation, significantly offsetting and at times potentially exceeding the monthly loan or lease cost. This dramatically lowers the true cost of ownership to the point where almost anyone could own a Tesla. Since most cars are only in use by their owner for 5% to 10% of the day, the fundamental economic utility of a true self-driving car is likely to be several times that of a car which is not.

In cities where demand exceeds the supply of customer-owned cars, Tesla will operate its own fleet, ensuring you can always hail a ride from us no matter where you are.
The company even released a name for their upcoming service and is called "Tesla Network." With this, there are studies which have revealed Tesla's cost structure could actually give way to a low-cost version.
Furthermore, a ride in the self-driving Tesla 3 could cost the customer a mere $0.60 per mile – far less than existing ride-sharing services like Uber or Lyft.
In Summary
It appears that Elon Musk is invariably pushing the envelope with the upcoming Tesla Model 3; much more bang for the buck with all the benefits of their previous experience building the higher-end Model X at a lower price point.
What do you think of Tesla's upcoming Model 3? Do you think it's possible they'll release on time or is it a bunch of false promises? Let us know in the comments!