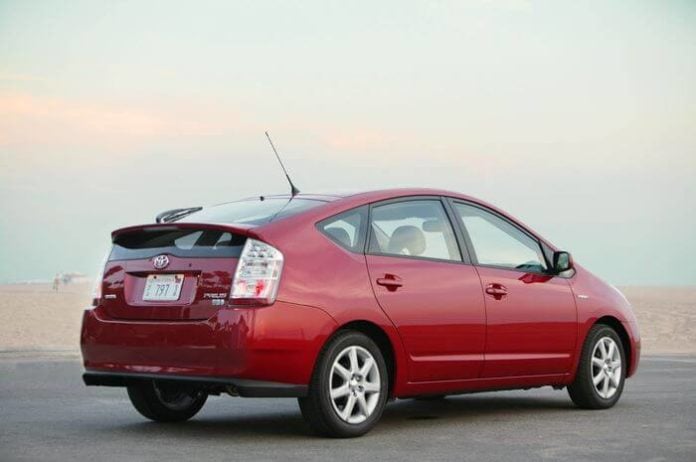 In our recent article, "Safety: Another Reason to Buy a Hybrid," we told you that the Highway Loss Data Institute (HLDI)—an arm of the Insurance Institute for Highway Safety (IIHS)—found that passengers riding in a hybrid during an accident were less likely to be injured than passengers riding in the same vehicle when it was equipped with an traditional internal combustion engine only.  While it's likely that this is attributable to the fact that because of their batteries, hybrids tend to weigh significantly more than their non-hybrid counterparts, today we bring you another reason to buy a hybrid: they are stolen less frequently than other cars—well at least Toyota Prius Hybrids are.
According to a National Insurance Crime Bureau (NICB) press release and a report attached thereto, since Toyota began selling the Prius in the United States back in 2000, they've sold approximately 1.2 million of them. Of those 1.2 million, only about 2,500 have been stolen.  The NICB argues that in comparison to other vehicles, this number is extremely low.  In addition, while it seems Prius Hybrids are less likely to be stolen than other cars, they are more likely than other cars to be recovered too.  During that same twelve year span, 2359 of the 2439 Prius Hybrids stolen were recovered and returned to their owners—astonishingly, that's 96.7%.
Further, when the NICB narrowed down the data to include only the 2008, 2009, and 2010 model years and compared the number of Prius Hybrids sold during that time to the number stolen during that time, they found that Prius Hybrids were almost eight times less likely to be stolen than other vehicles. On average, 1 of every 606 Prius Hybrids sold from 2008 to 2010 were eventually stolen, whereas for non-Toyota Prius Hybrids, 1 out of every 78 vehicles sold during the same time was later stolen.
The report continued by pointing out where these thefts were primarily taking place.  Obviously, the vast majority of Prius thefts occurred in California where the Prius is not just the best-selling hybrid, but it's the best-selling car period.  Florida, New York, Washington, and Texas rounded out the top five states for Prius thefts, and Illinois, Pennsylvania, Arizona, Massachusetts, and Maryland rounded out the top ten.
So why is it that Prius Hybrids aren't being stolen as frequently as other cars? Not being a car thief myself, I can only guess at the reasons why.  However, though presumably there are a lot of people out there interested in protecting the environment, the reality is—not all of them can afford to make purchases in support of that interest.  Therefore, my first guess is that people who own hybrids like the Prius tend to live in safer neighborhoods where car theft occurs less frequently than people who don't drive hybrids. My second guess is that it has something to do with the car's appearance.  Thieves may take one look at a Prius and assume it doesn't have the type of acceleration they need to make a quick get-away.  Why do you think Prius Hybrids are stolen less frequently than other types of cars?  And do you think if the NICB looked into thefts surrounding other hybrids they'd see about the same results?  Let us know below.