The Los Angeles Auto Show has attracted entries by major automakers into a themed Design Challenge since 2003. This event pushes engineers to imagine vehicles that would fit into the future needs of consumers. Organizers selected "Highway Patrol Vehicle 2025" as the theme for this year's Design Challenge. Participants were tasked with creating law enforcement vehicle concepts that produced few emissions, achieved high performance and used creative design. Mercedes-Benz drew from the previous G-Class SUV line to produce a concept called the Ener-G-Force. This futuristic SUV would allow police officers to trail perpetrators across all terrains without slowing their pace.
Engineers at the Mercedes-Benz Advanced Design Studio in California focused on hydrogen power when creating the Ener-G-Force. The design team developed a fuel-cell drive system that only produces water waste that can be recycled within the vehicle. A series of rooftop tanks stores the water before delivery to the hydro-tech converter. Conversion technology created by Mercedes-Benz turns this water into hydrogen that replenishes fuel cells on the fly. This focus on hydrogen power fits within the automaker's focus for production models slated for the market in the next decade. The Ener-G-Force could compete with the most powerful cruisers on the market today without producing emissions or eating into department budgets.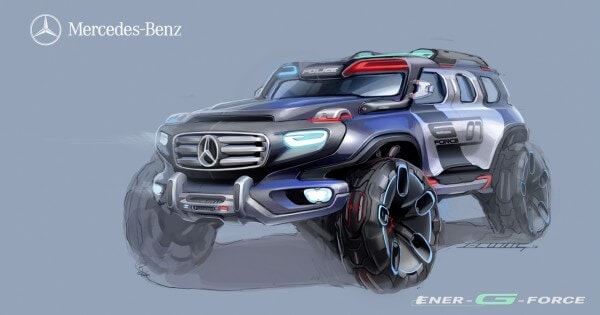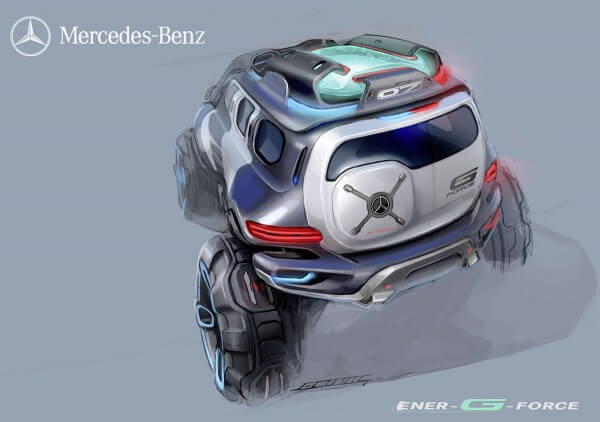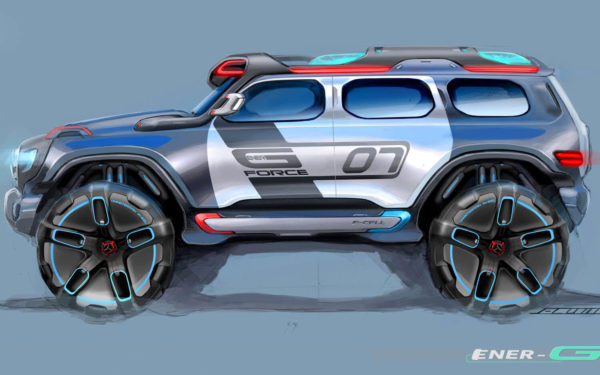 The side panels of the Ener-G-Force are designed to handle swappable battery packs necessary for long-range travel. These panels do not protrude far from the frame, thus avoiding bulges that could slow the vehicle down at high speeds. Mercedes-Benz has moved away from a heavy electric motor to four in-wheel motors that keep curb weight from going out of control. The Ener-G-Force could travel up to 500 miles per charge according to computer simulations by the automaker. Police departments would not experience range anxiety thanks to the efficiency of this concept's drive system.
Another innovative feature imagined by the Advanced Design Studio is the Terra-Scan system. A row of sensors just above the windshield scans terrain constantly to optimize vehicle performance. This 360-degree scan picks up on road conditions and topography. Mercedes-Benz hopes that Terra-Scan will reduce discomfort from bumpy roads and off-road trips. Terra-Scan allows each in-wheel motors to respond second by second especially on rough terrain. This innovation seems most likely to reach the market as automakers have already incorporated sensors into new models with park assist features.
The Los Angeles Design Challenge might seem like a flight of fancy but the future of automotive technology depends in part on creative thought. We think of reliable but uninspiring models like the Ford Crown Victoria when recalling police vehicles. Police cruisers in the future not only need to perform consistently but cost less to operate and produce fewer greenhouse gases. The Ener-G-Force does not look like a conventional cruiser and Mercedes-Benz seems to be imagining a future where off-road pursuit will be commonplace. The use of an SUV frame for an eco-friendly police vehicle might not be ideal but Mercedes-Benz has struck the right nerve in terms of drive technology.