Volvo is stealing a march on their competitors with their stunning new solar charging canopy. The charging station, known as the 'Pure Tension 'Pavillion' has been developed for use with the Volvo V60, the first ever diesel plug-in hybrid.
What is a solar charging canopy?
A charging canopy consists of photovoltaic panels which can be angled to face the sun to collect the maximum amount of solar energy with which to charge a car battery. Charging canopies have been around for a few years now and in some countries, such as Sweden, there are fixed canopies which act as public charging stations for electric cars.
Although charging canopies are fairly costly to buy initially, they have the potential to pay for themselves because they allow electric car owners to tap into a totally free source of power. They can also be portable so can be set up to charge your car while you are at work and are also ideal for taking on holiday.
What's special about Volvo's Pure Tension Pavillion charging canopy?
Volvo's take on the charging canopy has produced not only an effective and practical piece of equipment, it has also resulted in a beautiful example of design and engineering excellence.
The Pure Tension Pavillion was the winning entrant in a contest launched by Volvo and The Plan (a renowned architecture magazine) to develop a rapidly-deployable, sleek canopy that would both showcase the V60 and fit in with its high-efficiency reputation. The contest, known as 'Switch To Pure Volvo' received entries from around the world and was one by SDA (Synthesis Design and Architecture), an LA-based architecture company.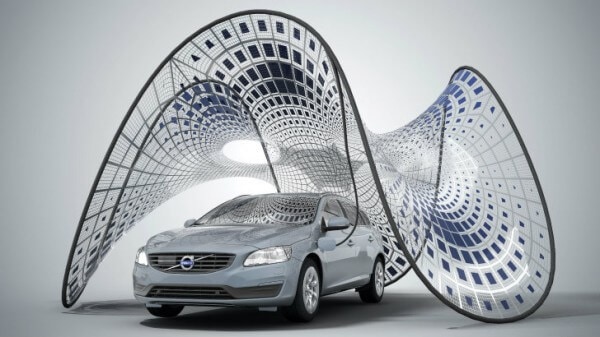 The canopy resembles a flower, such as an orchid, which cleverly assembles around the car and is tensioned equally in all directions, making it extremely stable.
It is made of HDPE mesh fabric combined with integrated photovoltaic panels which are tensioned on carbon fibre rods. It can be folded into a small canvas bag and kept in the boot of your car to be taken out and erected wherever and whenever a charge is needed. It can be fully assembled in a matter of minutes.
The charging cable is cleverly concealed within the canopy's fabric and the extremely light canopy can recharge the Volvo V60's battery in approximately 12 hours although this will vary with the amount of sunlight available.
Although the take up of electric cars has been generally fairly slow across the globe, as their price falls and their range increases, we can expect them to become more and more popular. Charging canopies will never be the only charging solution needed with electric cars but they will be an important part of a suite of charging solutions. The beauty of charging canopies is that they go wherever the car goes rather than the car having to search out a charging point. Because the canopy is so easy to put up, it is worth erecting for even a partial battery charge of 2-3 hours. You may also want to erect it just to show off.