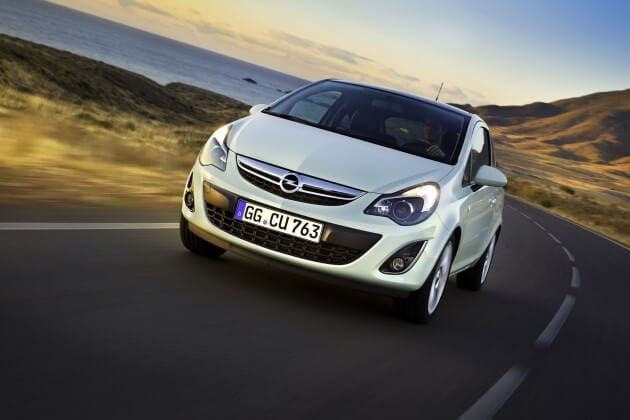 German automaker Opel AG invested $12 billion in 2010 to develop engines, transmissions and other components capable of increasing fuel efficiency. This aggressive investment appears to be bearing fruit thanks to the Opel Corsa ecoFLEX. Opel released two versions of the 2013 Corsa ecoFLEX in select European markets last week. Consumers can choose between a three-door coupe and a five-door sedan that improve on three previous generations of the Corsa. The Corsa ecoFLEX reduces fuel consumption by 26% compared to a 2011 model while cutting carbon emissions by 26%.
Opel has tweaked previous versions of the Corsa ecoFLEX rather than reinvent the automobile. The Corsa ecoFLEX was first produced in 2007 and the most recent version achieved 67 miles per gallon as well as emissions of 94 grams/kilometer. Designers at Opel opened up the drive system to find a multitude of tweaks that could substantially improve both figures. The engine control module was designed, the transmission given low-viscosity oil and the entire drive system has a smarter oil circulation process. Opel's automatic transmission has been reconfigured for a smoother ride with efficient gear shifts no matter the outside temperature. The addition of tires with low rolling resistance should improve handling while slightly reducing fuel consumption.
The final product of Opel's tweaking and redesigning is a platform for future developments in green technology. An estimated fuel economy of 71.3 MPG for the coupe shakes up the market by challenging existing models to do better. Opel estimates a rating of 69 MPG for the sedan, which is even more impressive based on sluggish improvements in this market sector. The Corsa ecoFLEX achieves carbon emissions of 88 g/km for the coupe while the sedan reaches 89 g/km. Drivers can expect a top speed of 110 miles per hour and a 0-60 time of 12.3 seconds.
The Corsa ecoFLEX seems a bit behind the ball when compared to the Corsa ecoFLEX introduced by Vauxhall in 2010. This subsidiary of Opel produced a similar model with a fuel economy rating of 80.7 MPG for the three-door version. The Vauxhall Corsa ecoFLEX does lag behind Opel's version in terms of carbon emissions with an estimated output of 94 g/km. Opel might have moderated fuel economy advancements at present to reduce production costs but consumers should expect automakers to continue moving forward.
Opel counts on all versions of the Corsa for about 28% of global sales volume as of 2011. The automaker has sold 12 million units over the past five years throughout the world across four generations of drive system. The Corsa is currently available with diesel, gasoline and LPG engines in Europe, accommodating the variety of consumers desired by most automakers.
The latest version of the Corsa ecoFLEX shows not only how far Opel has evolved in the past five years but where the automaker is heading. Opel's 2010 investment in fuel-efficient vehicle technology was designed as a five-year project so we should see greater advances in the near future.