Earlier this month, the world's largest solar powered boat completed its 3-month voyage across the Atlantic Ocean from Miami and docked in Paris, France. The feat wasn't just done for show, either – scientists from the University of Geneva aboard the ship used the excursion as an opportunity to study the relationship between the Gulf Stream and climate change.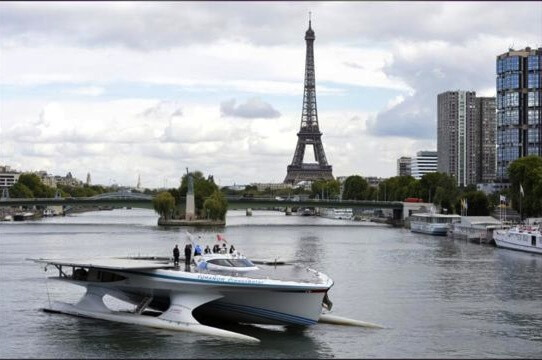 The 102-foot long boat, dubbed the MS Turanor PlanetSolar, is decked out with 809 solar panels (or 29,124 solar cells) which cover an impressive 512 square meters, and can generate and store enough energy in a giant lithium-ion battery that, even without any sun, can power the ship for four days.
Some of the most impressive stats on the PlanetSolar:
On a sunny day, the panels can generate 480 kWh
The ship can hold up to nine crew members
The solar powered boat reaches speeds up to 14 knots, and can travel across the Atlantic in a record-breaking 22 days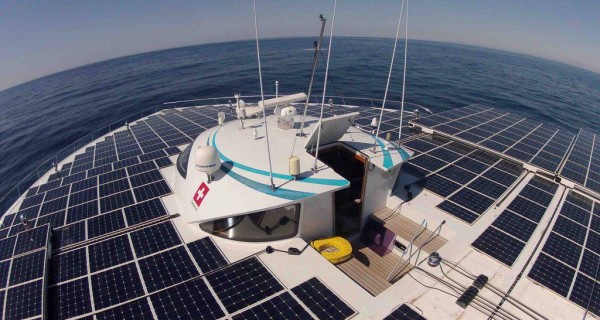 From a climate science perspective, the scientists focused their research on particles emitted from the ocean and into the atmosphere. RYOT quoted the ship's chief climatologist, Martin Beniston as saying,
"Our first surprise when we started looking at the data is the quantity of the aerosols that are actually injected into the atmosphere by the ocean, which means we might have underestimated the climatic role of the oceans via aerosols,"
Given the amount of information that's come out recently regarding ocean acidification and the rise in sea levels, it is encouraging to see researchers focusing efforts on the effects that critical waterways such as the Gulf Stream have on the global climate, and how they are in turn being impacted by climate change.
Regardless of the scientific research conducted, PlanetSolar's voyage is an incredible demonstration of the capability of solar power, and its successful trip shows that solar panels truly are a viable power source for water crafts, regardless of how far they need to travel.