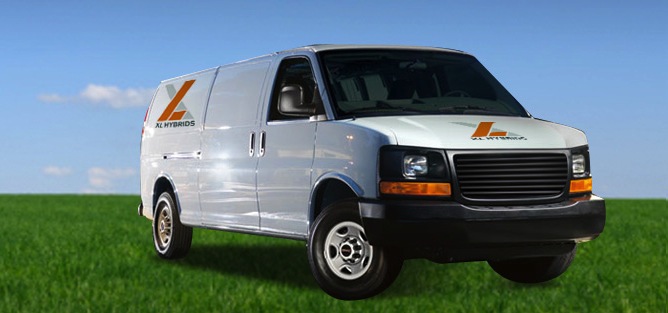 When it comes to the hybrid vehicle market, being on the cutting edge is particularly mandatory for success. So when a group of MIT graduates were looking for a way in, they targeted a very specific faction – commercial vehicles.
Unsurprisingly, one of the biggest ways truck fleets can combat escalating operating costs and boost profits is by using less fuel. A Boston-based start-up is growing exponentially by delivering hybrid vehicle technology that can do just that. The trio of co-founders, Tod Hynes, Justin Ashton and Clay Siegert, began XL Hybrids two years ago and have seen their business grow 20-fold since last year.
What they offer to trucks and vans driving back and forth between loading docks is a system that included batteries, an electric motor and control software. The batteries capture energy when the trucks brake, which is then stored and channeled to the drive train when the truck accelerates.
Hynes, who is anything but new to the alternative energy industry, explained how the business came to be when he spoke at a conference earlier this month, saying, "I graduated from MIT in 2002 and spent five years working on developing wind power for utilities and working on alternative energy for Citizens Energy. In 2000, I started a social network but I was not passionate about it. I was passionate about energy."
Noticing a gap in the clean-air technologies available to larger vehicles, the three jumped into XL Hybrids. The prototype they created – called a Post Transmission Parallel Hybrid System – is an easy-to-incorporate device that reduces vehicle fuel consumption by 20%. By targeting large volume, low miles-per-gallon fleet vehicles that travel between 20,000 and 30,000 miles per year, they were able to deliver a high return on customer's initial investment and saw profits soar right away.
As Hynes explained at the conference, "We launched in 2012 with a Fortune 500 company as our lead. In 2013, we sold hundreds of units and in 2014 we expect to sell thousands. We are pleased that FedEx is one of our customers."
Hynes went on to say he expects the company will reach $100 million in revenue within the next three years and anticipates their growth will be anywhere from 35% to 70% per year.
For now, XL Hybrids is continuing to focus on improving its product as new breakthroughs in hybrid technology become available and hope that, like with hybrid cars, using cleaner, more energy-efficient motors will soon be a regularity for fleets.