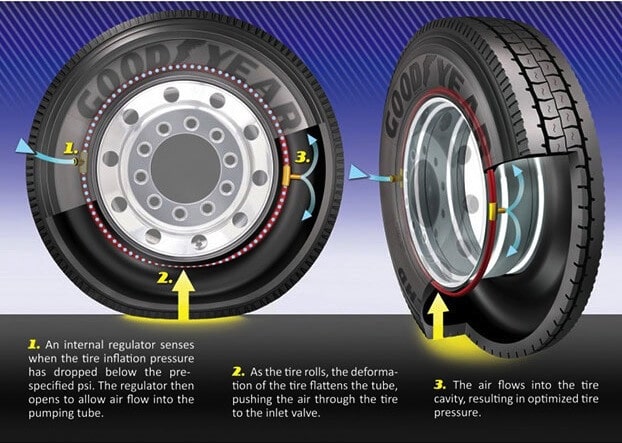 If you're like me, you probably hate going to those pesky air pumps at the gas station to fill up your tires. I never seem to have change for the machine, and never know exactly how much air to put in.
But The Goodyear Tire & Rubber Company has come up with an invention that could probably eliminate that pesky task. The company has been working on a new Air Maintenance Technology application that allows tires to self-inflate. The technology also helps in fuel savings and CO2 reductions.
Although the invention only applies to commercial vehicles at this point, perhaps it will be available to commuters in the future.
Goodyear says tire-related costs are the single largest maintenance item for commercial vehicle fleet operators. More than 50 percent of all truck and trailer breakdowns involve a tire in some way. Goodyear's Air Maintenance Technology allows tires to maintain constant pressure without the use of external pumps, electronics and driver intervention.
Proper tire inflation can result in improved fuel economy, prolonged tread life and optimized tire performance. And it is key in the commercial market. It is estimated that for every 10 psi lost in tire inflation, there is a one percent loss in miles per gallon.
While one percent may seem insignificant, it could cost a truck owner over $627.00 in fuel, based on a vehicle that has a fuel consumption of 6.6 miles per gallon, runs 100,000 miles a year with a diesel fuel price of $4.10/gallon3.
"We believe the Air Maintenance Technology application for commercial vehicle tires will not only enhance the performance of the tire, but will also provide cost savings to fleet owners and operators through the extension of tire tread life and increased fuel economy" stated Goodyear's Chief Technical Officer, Jean-Claude Kihn. "The progress we continue to make with this technology is very encouraging. We look forward to further testing of this concept."
A $1.5 million grant from The United States Department of Energy's Office (DOE) of Vehicle Technology is helping speed up research, development and demonstration of the AMT system for commercial vehicle tires.
The technology will make its debut at the 2012 Internationale Automobil-Ausstellung (IAA) Commercial Vehicle Show in Hanover, Germany.