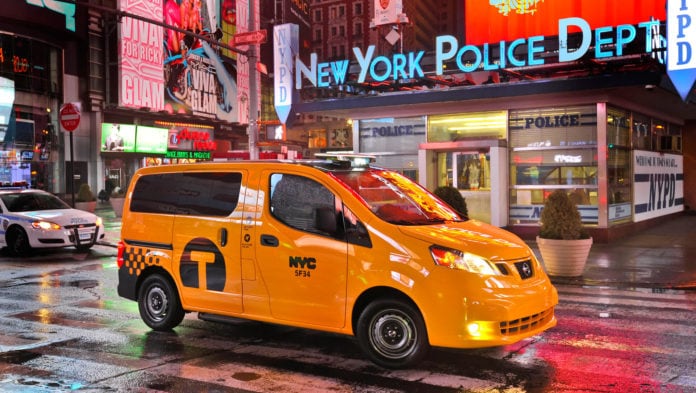 New York City. With a population of more than 18 million people and a bustling hub of commercial activity, the Big Apple is a city unmatched by any other. And with great power must come some sense of social responsibility, especially when handling one of New York City's greatest assets: Its signature yellow cab system.
In a majority vote today, the city's Taxi and Limousine Commission (TLC) official approved a new set of rules requiring the replacement of retiring taxicab vehicles with the Nissan NV200 Taxi of Tomorrow.
The NV200 is now officially the taxicab of New York City. The decision reportedly came after a competitive selection process. The TLC says the regulation sets a new standard for vehicles operating on city streets. The rules will begin in October 2013 and "significantly improve the overall efficiency of New York's taxi fleet."
The exclusive agreement will last for a decade. Powered by a 2.0L 4-cylinder engine, Nissan says its NV200 is designed to reduce carbon emissions and enhance fuel efficiency across the entire taxi fleet, as old models are replaced.
"The Taxi of Tomorrow is a little closer to today," said NYC Taxi and Limousine Commission Chair David Yassky. "Today's vote paves the way for a safer, more comfortable, convenient and fun ride than New Yorkers have ever known. Today's culminating vote may have been five years in the making but feels like a new beginning and leaves us even more excited and energized about the future!"
Nissan is no stranger to the taxi business. The Japanese automaker has provided taxis for municipalities around the world. Nissan says it's now in the process of conducting extensive testing for the Nissan NV200 Taxi prior to the vehicle going on sale at Nissan test centres.
Additionally, the Taxi of Tomorrow will be the first New York taxi to be crash-tested with taxi features installed.
These taxi features include:
Ample room for four passengers and their luggage, offering substantial improvements over current taxi models
Sliding doors with entry step and grab handles, providing easy entry and exit
Transparent roof panel, presenting unique views of the city
A mobile charging station for passengers, including a 12-volt electrical outlet and two USB ports
Flat "no hump" passenger floor area for more comfortable ride