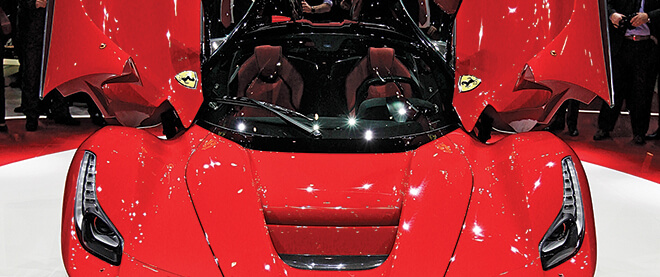 Once upon a time, hybrid cars were thought to be just the vehicle of the Earth-conscious, not the style-conscious. But if manufacturers like Ferrari and Porsche have anything to say about it, those two worlds are about to collide in a big way.
In March, Ferrari, hoping to bolster its long-term viability, introduced its first hybrid model, the LaFerrari. The run of 499 vehicles, boasting a 160-horsepower electric engine with a 12-cylinder, 800-horsepower gasoline engine, sold out before they were even revealed to the public, an indication of the market demand for vehicles that are both sporty and smart.
Wanting to capitalize on the continuing trend away from gasoline-only engines, Porsche announced it would begin selling its new hybrid model beginning in December. The 918, an oversized sports car in the vein of LaFerrari, follows Porsche's other stabs at energy efficient vehicles, including hybrid versions of the 911 GT3 sports car, the Cayenne SUV and Panamera four-door sedan.
With two of the largest sports car makers in the world investing in hybrid technology, where it compliments the sleek designs that have made their brands synonymous with luxury, it explains why so many other manufacturers are running out of excuses not to have hybrids models of their own.
British carmaker McLaren is throwing their hat into the ring now as well, unveiling a $1.8 million hybrid vehicle, while Nissan has the ZEOD RC (Zero Emission on Demand Racing Car), the first all-electric supercar to race in LeMans, the historic 24-hour endurance race and new-car proving ground. Depending how the car performs there, it could see its debut in the consumer market.
At this point, every major carmaker has an electric or hybrid model on its roster, with Dodge and Chevrolet even offering hybrid versions of their best-selling pickups.
While it becomes more common for high-end manufacturers to play around with, and attach, hybrid technologies to their designs, most of the cars are still more style than Earth-conscious substance at this stage. But if the market continues to reflect a desire for hybrid sports cars, and as the technology continues to advance, their purchase could contribute to positive environmental gains. At the moment, hybrid technology relies heavily on expensive batteries that are full of chemicals, but with the increased fuel efficiency, coupled with the right tweaks, hybrid vehicles could still go a long way in curbing global energy demand.
Plus, if Ferrari and Porsche have their way, consumers can still look cool while trying to save the environment, one million-dollar sports car at a time.