When we think of air pollution, the first thought that comes to mind is the billions of cars on the road each day. Seldom do we think about the impact that airplanes have on air pollution around the world. But as it turns out, the aviation industry has been wracking its brain on ways to engage in sustainable air travel. And some of its ideas go beyond simple aircraft design.
Air traffic management, including bird-formation flight patterns, is at the top of a growing list of ideas on how to achieve sustainable aviation.
In July, Airbus released its vision of what a passenger jet will look like in 2050. According to Reuters, it is a graceful, spaceship-like vessel brandishing long, slim wings, semi-embedded engines and a U-shaped tail. The planemaker says that around 9 million tonnes of fuel and 28 million tonnes of CO2 emissions could be saved every year in Europe and the US by optimising aircraft systems, shaving 13 minutes off journeys and saving passengers over 5 million hours of flight time a year.
"We can do things to make the aircraft more efficient… more eco-efficient, but in order to meet the targets that we've set ourselves in the long-term we have to have a more holistic approach," says Andy Gordon, Airbus's director of strategic marketing and analysis to Reuters.
But there are reports that air traffic control technology is way behind airplane technology. One obstacle is that there are multiple organizations around the planet managing the Air Traffic Management ATM.L systems.
Though the aviation industry as a whole has reduced fuel burn and emissions by 70 percent in the last 30 years, Reuters notes that the total number of passenger aircraft is predicted to double from a current crop of around 15,550 to 32,550 by 2031. The news agency says that's according to the latest forecast by Airbus, the world's largest manufacturer of such jets.
The latest instalment of "The Future by Airbus" is reportedly a massive sustainable aviation exercise. It is titled "Smarter Skies" and focuses on forward-thinking concepts which, if implemented, would reduce excess waste in time, fuel and emissions.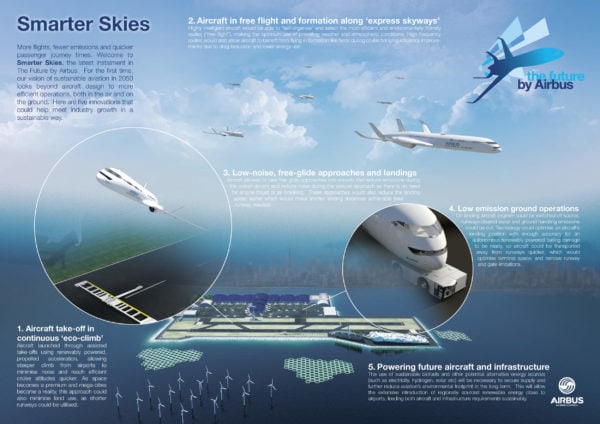 Reuters says that one of the concepts is the sci-fi suggestion of "free flight". That's where intelligent aircraft, rather than air-traffic controllers, select the most efficient and eco-friendly routes. High-frequency routes would benefit from bird-like formations of aircraft that seek to alleviate drag reduction.
Tests with Airbus's A400M military aircraft have, according to Andy Gordon, shown that there are significant benefits to bird-formation flight patterns, where craft can fly as much as one kilometre apart.
Environmental groups are reportedly happy that the industry is focusing on sustainability issues. But activists say technical tweaks are by no means enough.
Keith Allott is head of climate change for WWF UK. He pointed out to Reuters that projections on the rapid growth of emissions, and wider climate impacts, already have these kind of improvements factored in: "Technical improvements to aircraft efficiency are welcome, but they are no way enough to get global emissions levelling out let alone decline. We must also be realistic about the rate of penetration of new technologies. There is a long life span of existing stock in the world's aviation fleet."
Allott went on to tell the news agency that planes don't pollute. People do. And that the only real way to reduce emissions is for people to make a choice whether they need to fly quite so much.