San Francisco represents a logistical nightmare for transportation officials due to heavy traffic and limited parking. BMW saw these liabilities and initiated an EV sharing program called DriveNow in San Francisco earlier this summer. Representatives from BMW along with Mayor Ed Lee announced last week plans for a wireless parking network called ParkNow. The ParkNow system rolling out in early September allows drivers to search and pay for parking using mobile devices. BMW's efforts in San Francisco certainly ease strains on the transportation system but also preview the future of urban mobility.
The DriveNow initiative in San Francisco began in June with the delivery of 70 BMW ActiveE EVs. Members of the DriveNow program locate these vehicles for rental through a dedicated phone application. This mapping software not only provides an overlay of available vehicles but public charging stations supplied largely by Coulomb Technologies. A driver receive free charging and parking with the hourly rate. DriveNow allows users to return their vehicles to eight stations throughout the city including the San Francisco International Airport and several Bay Area Rapid Transit (BART) stops.
BMW already operates 14 ParkNow locations throughout the city with plans to expand by the end of September. This expansion will take place in San Francisco, Oakland and Palo Alto thanks to area partners like ProPark America and California Parking. Additional parking spaces will be located near BART stops as well as bike-sharing lots to minimize mobility gaps. A registered ParkNow user can use a mobile phone application to find open parking, reserve a space and pay for parking in a few moments. BMW's introduction of online parking reservations brings order to an often chaotic scene at the typical parking lot in the Bay Area.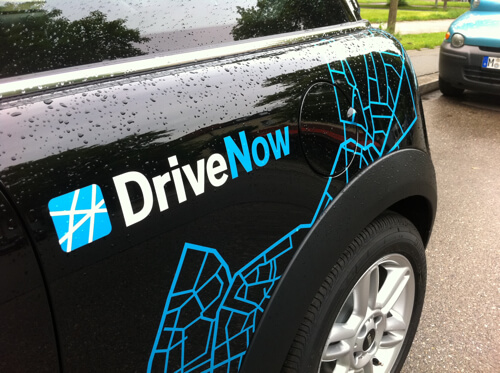 San Francisco represents an excellent test case for BMW's parking and car-sharing programs prior to global release. The city hosts about 505,000 vehicles based on state registration records while only operating about 448,000 parking spaces. Commuters from outlying communities add 35,000 vehicles to this total during the week, creating difficulties for local businesses. Travelers around the world add rental cars to the mix throughout the year.
City officials note that about 30% of all traffic in downtown San Francisco is generated by cars circling for available spots. Parking and traffic challenges dovetail with the city's eco-conscious credentials to create a valuable market for BMW.
BMW joins the ranks of the Nissan-Renault Alliance and Toyota in developing large-scale alternatives to urban transportation systems. The design of major cities throughout North America values individuality and comfort over functionality. This approach to urban planning means that motorists dictate their driving environments but consume considerable fuel while idling on clogged streets.
A swell of urban migrants in the past few years worsened parking shortages, congestion and emissions in places like San Francisco. BMW's DriveNow and ParkNow initiatives leverage existing technology to reduce parking woes and increase urban mobility. An intermingling of EV car shares, green public transit and wireless communications can improve driving experiences in any city.