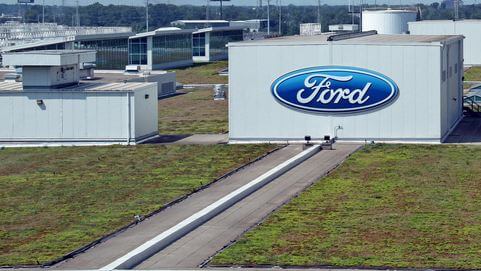 Once upon a time, automotive manufactures like Ford Motor Company were lambasted for building environmentally damaging, gas guzzling behemoths of steel that destroyed the environment (anyone remember the Ford Excursion)? Today, automakers are working hard to correct this image problem by incorporating a variety of green technologies into their manufacturing process.
Here are some examples of green technology used in automotive manufacturing:
Ford's Vegetation Roof
Around the year 2000, the Detroit-area Ford River Rouge factory was facing a $50 million bill issued by the EPA to clean up a contaminated river that the factory was polluting. In addition to clean-up, Ford was expected to rectify this issue immediately. There were two options:
Ford could have opted for a conventional waste water treatment system to address the issue. While this is the standard practice, it's not nearly as "green" as option number two.
Build a plant-filled garden on top of the factory's roof.
The 10-acre Rouge factory roof has a 10 acre garden siting right on top, which ironically sits in an area filled with towering steel structures and dreary looking manufacturing plants. As anticipated, this massive roof-top garden has adequately addressed the factory's water pollution issue, but it's also served as an example to other large companies.
Toyota's 17,000 Solar Panels
From the air, Toyota's Derbyshire plant in England looks like a gigantic lake of silver with 90,000 square meters (968,752 square feet) of solar panels covering the ground. This massive solar panel installation is helping Toyota to build nearly 7,000 cars per day when the panels are at full electrical capacity.
Toyota says that they built this massive solar array because they wanted to do something to help the environment. Toyota chose to install solar panels because they were the best solution that didn't impact neighboring land owners, but also as a proof of concept. Many at Toyota believe that solar power can one day provide power to all of their assembly plants.
Volkswagen's Zero Waste Factory
Building a car requires many parts and many people, all of which generate some type of waste. Auto parts, for example, are frequently delivered in disposable packaging materials. Most bulk shipping companies use disposable pallets and shrink wrap. Workers use paper. Etc.
Yet despite all these challenges, Volkswagen managed to build one of the first zero waste factories in the auto industry. The plant produces no waste – no trash – as part of their vehicle production process.
The VW plant in Chattonooga, Tennessee is more than just a zero waste factory. It uses electricity which is generated by burning methane gas that is collected from a landfill 4 miles away (landfills can generate massive amounts of methane, which can pollute the atmosphere unless it's harvested). The factory is also incredibly energy efficient – it uses 35% less energy that auto plants of a similar size – and VW has tried to minimize the environmental impact of the plant's construction by planting hundreds of trees to to try to replace trees that were cut down in the past.
As great as these stories are, they are just some of the amazing efforts the auto industry is completing in order to become more environmentally conscious. While a skeptic might say that automakers are using more green technology to try and boost sales, there are very good business reasons for these efforts. Several of these new green technologies save money and reduce manufacturing costs as well.