On-demand taxi services like Uber and Hailo have been turning the established cab industry on its head, and ruffling some feathers along the way. These services let you hail a cab from anywhere using a smartphone app, which pinpoints your location via GPS and charges you through your account with a saved credit card. It means a fast ride from door-to-door, and never having to carry cash.
While these services provide a great convenience to consumers, they're causing traditional taxi drivers a lot of headaches, lost business, and in some cases resulting in city-wide strikes that create massive congestion in protest. Take a look at the photo below of the recent anti-Uber demonstration that took place in London as an example, where black cab drivers blocked the streets in protest. Similar demonstrations have taken place in Paris, and other locations around the world.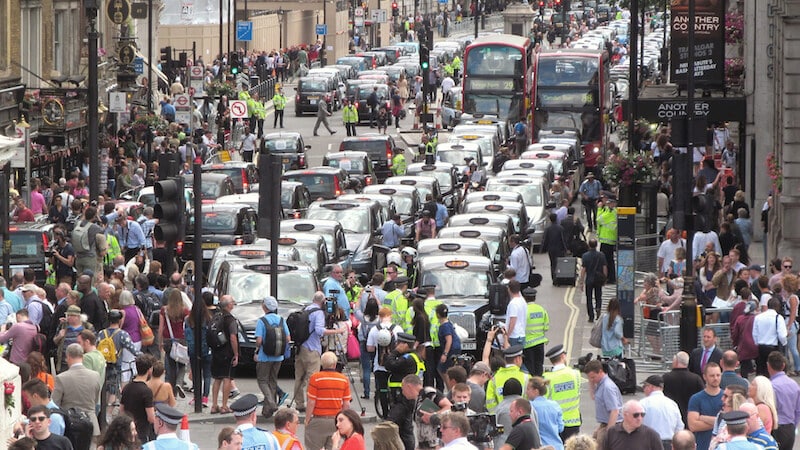 But despite the pushback from the taxi drivers who are resistant to adopt something that consumers ultimately want, more innovative on-demand ride services are popping up, and now expanding to offer ride-sharing services, making it simple for people to find a carpooling partner for trips near or far. The result, of course, is a cheaper ride for you, and fewer cars on the road.
Most notable of the new services is Lyft, which is taking the concept of carpooling to the digital age. When you have somewhere you want to go, launch the Lyft app and it will pair you with a (background-checked) driver who is heading in the same direction, and will give you a lift. You pay for the ride securely through the app so you never have to worry about carrying cash.
In an effort to compete with services like Lyft, the biggest competitor in the space, Uber, just launched a a feature called "Uberpooling", which is just what it sounds like.
With UberPool, you share a ride—and split the cost—with another person who just happens to be requesting a ride along a similar route.

…

On average, uberX already costs 40% less than taxi. Imagine reducing that cost by up to another 40%! In San Francisco, how about $6 to Uber from the Castro to the Financial District? Or $10 from Sunset to SOMA? At these price points, Uber really is cost-competitive with owning a car, which is a game-changer for consumers.
Both Uber and Lyft are currently only available in select cities, but if they are in your area be sure to check them out for an alternative, and environmentally-friendly, form of transportation on your next trip.